Valentine's Day.  Is this the holiday you love to hate, or is that just me?  I mean, while I do swoon a bit over the concept of heart-shaped everything, my enthusiasm wanes somewhat with the over-commercialization of the whole thing.  There is so much pressure to pack all of our collective love and romance into one day.  THE day of love and romance.  Like the other 364 days of the year can just forget about seeing anything slightly romantic when it's their turn.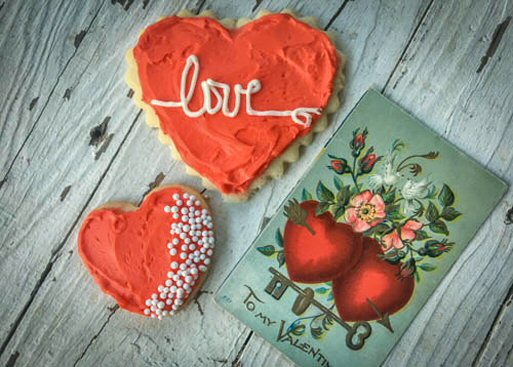 Did you know that the exact origin of Valentine's Day is not entirely clear?  I know, because I googled it.  One theory is that it is actually a celebration of a Roman fertility festival.  What??  This crashes headfirst with my very fond memory of painstakingly addressing 23 small Valentines so that I could distribute one to each of my classmate's via their handmade mailboxes.  I don't recall Mom ever mentioning that the history of my little ritual may actually be based in s-e-x.
Don't get me wrong.  I really do like it all in theory.  But, like so many holidays, the true meaning of it all gets a bit diluted by the over-commercialization of it.  Not only are there red hearts everywhere, there are also not-so-subtle reminders that if I avoid those heart-ridden aisles, I may in fact be the the biggest love loser of all time.
While writing this, I came to the conclusion that I'm going to embrace this whole thing.  In my own way.  It's a good time to remember that romantic love is only one kind of love.  And that on Valentine's Day we could show a little love to some of those around us. So, on this Valentine's Day, I'm going to give the gift of an unexpected smile or compliment to someone I don't know.  For someone special in my life, I'm not only going to tell them I love them but also why.  And, this one will be the most challenging for me, I'm going to give the gift of my patience if (when?) I encounter someone doing something stupid.  This means a free hall pass for all of you drivers that cannot get it through your heads that the left lane is not the "drive at your own pace lane" or for that person in front of me at Safeway for not only wanting to pay for your groceries with a check, but also for when you fail to realize that you can actually start looking for your pen before your groceries are completely checked and bagged.
Who knows, maybe I'll enjoy it all so much I'll repeat it all again on the 15th.
So, maybe those advertisements are right.  Valentine's Day doesn't have to be hard.
(If you have an inclination to bake a sweet for your Sweetie, you can't go wrong with these sugar cookies.  Click here for the recipe.)
Happy love to you all.