A recipe from EntertainingCouple.com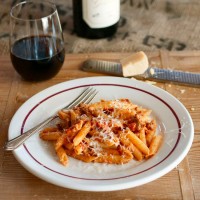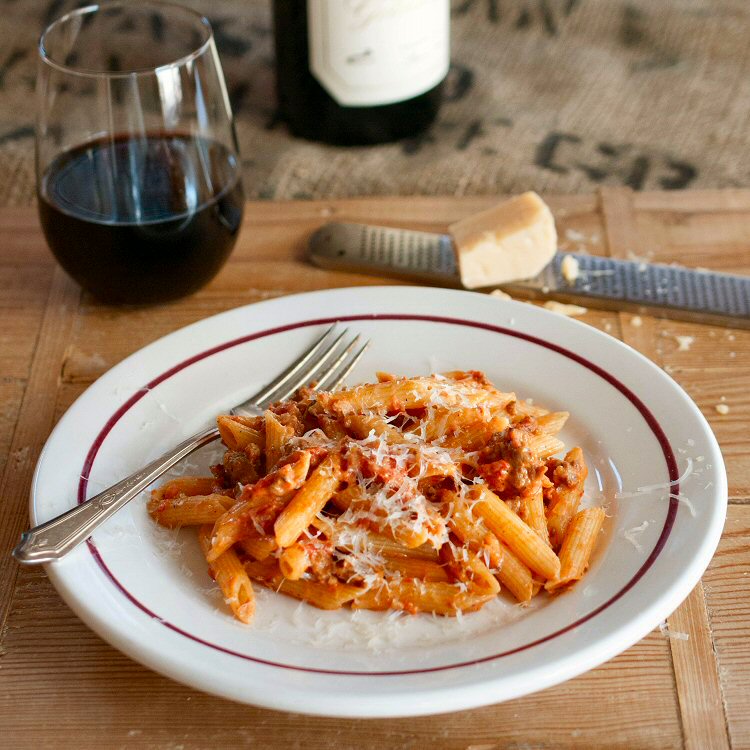 Penne Pasta with Vodka Sauce
If you're looking for one of those quick and easy recipes that doesn't look or taste quick and easy, this is it. Read our post for more info...

Recipe
Ingredients (about 6 servings):
Note:  If you buy link sausage, remove the casings.
1 tablespoon olive oil
1/2 yellow or white onion, diced (about 1 cup)
Salt
1 pound Italian sausage (I normally use Sweet Italian sausage)
2 – 3 large garlic cloves, chopped
1 28 ounce can crushed tomatoes
1 tablespoon dried sage
1/2 teaspoon dried crushed red pepper flakes
1/4 cup unflavored vodka
1 cup whipping cream
16-ounces penne or similar pasta
Parmesan cheese
Directions:
In large skillet, heat olive oil over medium-low heat.  Add the onion and a sprinkle of salt and cook until the onion is translucent (about 5 – 6 minutes).  Add the sausage, and cook, breaking up the meat, until completely no longer pink.  (Depending on the sausage, after you brown the meat there may be grease in the pan.  If so, drain as best you can.)  Add the garlic and cook for an additional minute.
Add the diced tomatoes with the juices, vodka, sage and red pepper flakes and give it all a good stir to combine.  Adjust the heat so you get a constant simmer and then cook, uncovered,  for about 25 minutes, or until almost no liquid remains.  Stir it occasionally as it cooks.
Add the whipping cream and return to a gentle simmer and cook about 10 minutes, stirring occasionally.
Meanwhile, start the water boiling for the pasta.  Cook according to the package directions, but once the water is boiling you'll probably cook the pasta for about 11 – 12 minutes, so you can time it accordingly.  (I always add a healthy dash of salt to the water when I cook pasta.)
Drain the pasta, add to the sauce; toss to coat.  Serve immediately with freshly grated Parmesan cheese as the garnish.  Note:  If your sauce has gotten too thick, reserve a cup or so of the water from the pasta and add, a little at a time, to the sauce until it's the desired consistency.
Serve this with a Sangiovese or Brunello (if you want to splurge) wine.
Hostess' Hint:  You can use other pastas besides penne.  But this dish is about the sauce, so I prefer a short, squatty pasta that the sauce can cling to, rather than a long noodle like spaghetti.
Total time: 1 hr | Prep: 1 hr | Cook: