A recipe from EntertainingCouple.com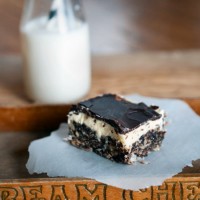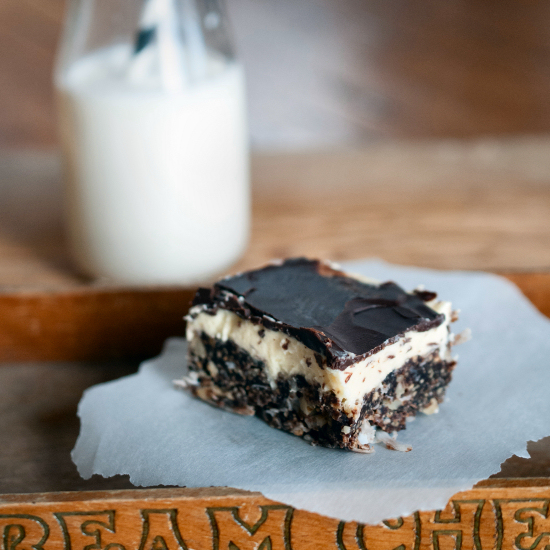 Nanaimo Bars
Every family has one, it seems. That thing that defines Christmas to them. Or at least the thing that they couldn't imagine having Christmas without. For me, that thing is Nanaimo Bars. Read our post for more info...

Recipe
Ingredients:
Chocolate Crumb Layer:
1/2 cup unsalted butter, at room temperature
1/4 cup white sugar
1/4 cup unsweetened cocoa powder
1/4 teaspoon salt
1 egg, slightly beaten
1 tsp vanilla
1 1/2 cups graham cracker crumbs
3/4 cup flaked coconut
1/2 cup chopped pecans
Cream Filling:
1/2 cup unsalted butter, softened
3 ounces cream cheese, softened
4 tablespoons instant vanilla pudding and pie filling
1 cup powdered sugar
1/4 cup milk or heavy cream
Glaze:
4 ounces/squares semi-sweet chocolate
2 tablespoons butter
Directions:
Chocolate Crumb Layer:
Butter a 9×9 pan.
In a heavy sauce pan, combine the first 4 ingredients and cook over low heat until butter is melted.
Add a spoonful of the hot chocolate mixture to the egg and combine (to "temper" the egg) and then add the egg mixture to the chocolate.  Continue cooking over low heat, stirring constantly, until thickened and incorporated.
Remove from heat and stir in vanilla, crumbs, coconut and pecans.
Press warm mixture firmly and evenly into the buttered pan.  Set aside while you prepare the cream filling.
Cream Filling:
In a bowl of a mixer fitted with the paddle attachment, cream butter, cream cheese and pudding/pie mix on medium speed until light and fluffy.
Add the powdered sugar and milk or cream, and beat until well combined and very light.
Spread evenly over the chocolate crumb layer.  Refrigerate 30 minutes or until set.
Glaze:
In microwavable dish, melt chocolate and butter.  (Be careful to not overcook.  It's easy to burn chocolate in the microwave.)  If you prefer, melt the chocolate and butter in the top of a double boiler over hot (not boiling) water.
Stir until smooth and spread evenly over cooled/set cream filling layer.
Refrigerate bars until time to serve.  Use a sharp knife to cut.
Total time: 2 hr | Prep: 1.5 hr | Cook: 30 min