A recipe from EntertainingCouple.com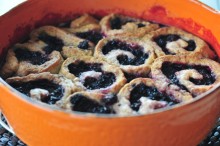 Blackberry Cobbler
The serious quest for a good cobbler recipe started in earnest after I discovered the wild blackberries growing near our house last year. Read our post for more info...

Recipe
Ingredients
1 cup (2 sticks) butter, divided
1 cup sugar
1 cup water
1 1/2 cups all purpose flour
1/4 teaspoon salt
2 1/4 teaspoons baking powder
1/3 cup + 2 – 3 tablespoons half 'n half or milk
2 cups fresh blackberries
1/2 teaspoon ground cinnamon
Directions
Preheat the oven to 350 degrees.
In an oven-proof 10″ round or oval baking dish, melt 1/2 cup butter; set aside.  Keep the other 1/2 cup of the butter chilled.
In a saucepan over medium heat, combine the sugar and water and cook, stirring occasionally, until the sugar is melted;  set aside.
In a food processor fitted with a metal dough blade, process the flour, salt and baking powder until well combined.  Cut the remaining butter (1/2 cup) into small pieces and add to the flour mixture.  Pulse 10 -15 times or until the mixture is crumbly.  Add the milk and process just until a soft dough forms.  I add 1/3 cup, and then add 1 tablespoon at a time until the dough comes together in a ball.  You may need slightly more or slightly less milk than is called for.
Turn the dough out onto a floured surface.  Roll the dough to an 11″ x 9″ rectangular, about 1/4″ thick.
Spread the berries over the dough, leaving about an inch on either long side (the berries shift slightly as you roll it) and then sprinkle with the cinnamon.
Beginning with a wide edge, roll the dough (similar to how you would roll dough for cinnamon rolls).  Pinch the edges to seal.
Using a sharp knife, cut into 1/2″ slices. Carefully lay the slices in the baking dish over the butter.  Some of the berries may fall out as you do this.  Just drop them on top of the slices after you get it all laid out in the pan.
Pour the sugar mixture evenly around the slices.  (The syrup will be absorbed as it bakes.)
Bake at 350 for 45 – 50 minutes (for a glass pan), or until crust is golden brown and the berry mixture is bubbly.
Serve warm with vanilla ice cream and/or whipping cream.
Total time: 1:45 | Prep: 45 min | Cook: 1 hr