A recipe from EntertainingCouple.com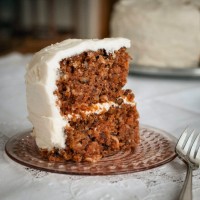 Carrot Cake With Cream Cheese Frosting
This recipe calls for cooked and pureed carrots. I couldn't find the same recipe online so I was relieved when I found an old, faded copy in my recipe file. Read our post for more info...

Recipe
Ingredients:
Cake Batter:
9 – 10 carrots
1 8-ounce can (1 cup) crushed pineapple, with the juice
3 cups all-purpose flour
1 teaspoon salt
1 tablespoon baking soda
1 tablespoon cinnamon
1/2 teaspoon nutmeg
4 large eggs, slightly beaten
3 cups sugar
1 cup vegetable oil
1/2 cup buttermilk
1 tablespoon vanilla
1 1/2 cups chopped pecans
1 1/2 cups shredded coconut
Cream Cheese Frosting:
8 ounces cream cheese, at room temperature
8 tablespoons (1 stick) butter, at room temperature
2 teaspoons vanilla
3 tablespoons cream
5 cups powdered sugar
Directions:
Cake Batter:
Place oven racks in the middle of the oven and preheat oven to 325 degrees.  Generously grease two 9″ cake pans.  Place parchment paper (cut to fit or use round parchment paper) in the bottom and apply a thin layer of butter or Crisco on top of the parchment.  Dust lightly with flour.
Peel 6 – 7 carrots and cut them into chunks.  You should have about 2 cups of carrot.  Place them in a  saucepan and add enough water to cover.  Cook until completely tender, about 15 – 20 minutes.  Drain and allow to cool.  Place cooled carrots in the bowl of a small food processor, or in a blender, and add the crushed pineapple.  Process until pureed.  Set aside.
Grate 3 – 4 carrots.  You should have about 1 1/2 cups grated carrots.  Set aside.
In a small bowl, whisk together the flour, salt, baking soda, cinnamon and nutmeg.  Set aside.
In the bowl of a standing mixer, using the beater paddle, combine the eggs and sugar and beat on medium-high until pale yellow.  Add the oil, buttermilk, and vanilla and beat until well combined.  Add the carrot/pineapple puree and grated carrots and mix  on low until blended.
Add the flour mixture and mix on low until combined.  Add the coconut and nuts and mix on low until blended.
Pour the batter evenly into the 2 prepared pans.  Lightly tap the pans a few times on the counter to release any air bubbles.
Bake at 325 degrees for 50 – 55 minutes, or until a toothpick inserted in the middle comes out clean.
Cool the cake in the pans for about 10 minutes, then invert onto racks to cool completely.  Remove the parchment paper.
When completely cool, wrap each layer tightly in plastic wrap and place in the refrigerator for several hours or overnight.
When you're ready to frost the cake, prepare the frosting (below).
To assemble the cake, place one layer on a platter or cardboard round.  (I prefer to frost right on whatever I'll be serving from so I don't have to transfer the cake later.)  Spread with one third of the frosting.  Place the second layer on top of the frosting, bottom side up (to give you a flat surface on top).  Using the Magical Crumb Coat (see our post for details), frost the top and sides with a thin layer of frosting, and put the entire cake in the refrigerator for about an hour.  (Cover the remaining frosting to keep it from drying out.)  Use the remaining frosting to cover the top and sides completely.
Frosting:
In the bowl of a standing mixer using the paddle attachment, blend together the cream cheese and butter until completely combined.  Add the  vanilla and cream, and combine well.
Add the powdered sugar, one cup at a time.  When completely blended, beat the frosting on high until light.  If needed, add additional cream, 1 teaspoon at a time, to achieve the desired consistency.
*Note:  Total time for this recipe includes at least 3 hours of cooling time.  I like to prepare the cake the day before I frost and serve it.  I wrap the layers in plastic wrap and store in the refrigerator until it's time to frost it.
Total time: 6* hr | Prep: 2 hr | Cook: 55 min