A recipe from EntertainingCouple.com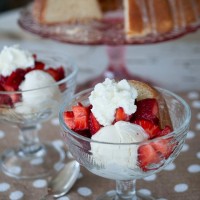 Strawberry Shortcake
Our version of strawberry shortcake is a spin on the classic. We make it by starting with a layer of good textured cake, then add vanilla ice cream, berries and whipping cream. Read our post for more info...

Recipe
Ingredients:
Lemon Pound Cake (get recipe here)
1 quart strawberries
1 tablespoon sugar (optional)
1 1/2 cups heavy cream or whipping cream
1 tablespoon powdered sugar
1 teaspoon vanilla
1 pint vanilla ice cream
Directions:
The pound cake can be made a day or so ahead of time.  After cooling the cake, wrap tightly in Saran Wrap and keep until ready to use.
Using a hand beater or standing mixer fitted with the whisk attachment, whip the cream, powdered sugar, and vanilla until it holds a soft peak.  Cover and refrigerate until ready to serve.
About an hour before serving, gently rinse the berries under cold water; drain well.  Remove the stems, slice the berries and place in a bowl.  Using a potato masher or fork, slightly crush any large pieces.  I like chunks of strawberries in my shortcake, so I don't get too carried away here.  I just want to release some of the juices.  (At this point I only add sugar if the berries seem less than perfectly sweet.  When using seasonal, local berries, I never add sugar.)  Set aside, at room temperature, for about 30 – 60 minutes.
When ready to serve, cut the pound cake into 1″ slices and place one in each serving dish.  Top with a scoop of the vanilla ice cream, followed by strawberries and a dollop of whipping cream.  Drizzle a little juice over the whipping cream.  Serve immediately, and then take a bow.
Note:  Total time for our strawberry shortcake includes 30-60 minutes of standing time after cutting up the berries, and does not include time for preparing the Lemon Pound Cake ahead of time.
Total time: 1* hr | Prep: 15 min | Cook: N/A