Strawberry Napolean
I think this dessert has been around for a long time.  But I had never had it until I was at my cousin's house in Houston when she hosted me, my sisters, my aunt and my other cousin for brunch.  Given my cousin's perfectly Southern and lavish home, which is a perfect reflection of her, I assumed this dessert was one of those that required a lot of effort (or had even been made by a caterer).  It was SO good, I eagerly accepted her offer of a second helping with barely a hint of embarrassment on my part.  I got the name of the dessert from my cousin, and then looked for a good Strawberry Napolean recipe online.
I had avoided working with puff pastry basically my entire life.  I had it in my mind that without a marble slab and a lot of finesse, the pastry wouldn't puff that way it's supposed to.  Maybe I had it in my mind that it was French.  Whatever it was, there was just something about it that I found intimidating.  But that's how good this dessert is.  I was determined to get over my fear and master the puff pastry.  And, much to my delight, it was, well, easy!  So, if you're like me and you've avoided recipes that use puff pastry, here's your chance to bake like a professional baker with none of the fuss.  If you're still doubtful, maybe the fact that earlier this week I used a box of puff pastry that had been in my freezer for about a year and still had perfect results will nudge you over to the "I can do this" side.
The combination of the puff pastry, fresh fruit and custard is undeniably lip-smacking delicious.  This is one of those desserts that comes together rather easily but makes you look like you know your way around a wooden spoon.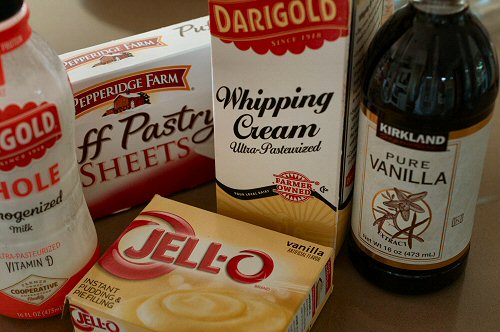 While the original recipe calls for strawberries (hence the name Strawberry Napolean), I've found that any berry works well. For the Fourth of July, I used both blueberries and strawberries for a wonderful and patriotic spin on the original.
I have served this Strawberry Napolean recipe several times, and it's been a big hit every time.
Happy Entertaining!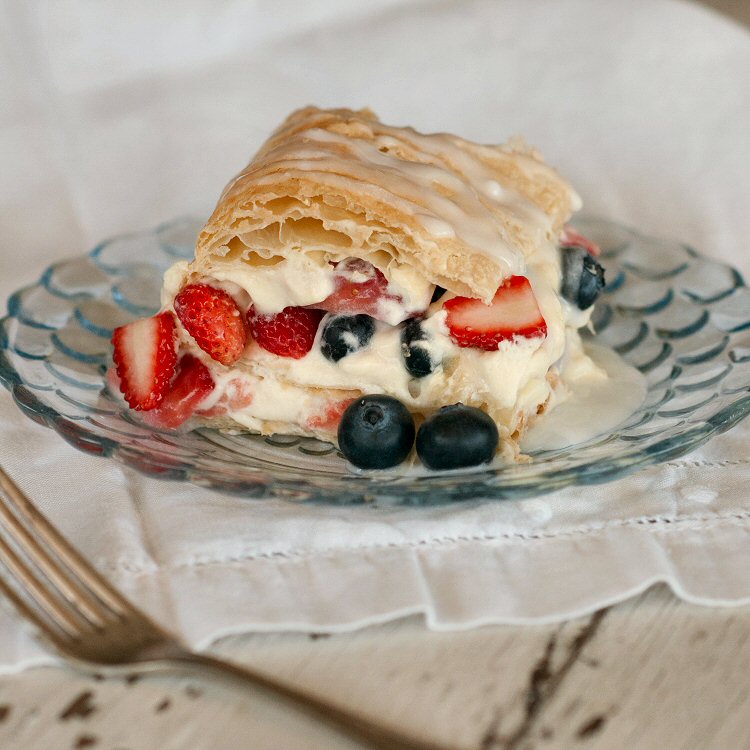 Click here to get recipe