Our sweet addiction
First there was Cracker Jacks.  Followed by Fiddle Faddle.  And then Kettle Corn.  A distinct evolutionary track of my caramel corn addiction.  There is just something about the perfect combination of sweet and salty that I can't seem to resist.  If only Brussels sprouts could have that effect on me.
Honestly, I'd never bothered to try and make caramel corn at home before.  The whole "making caramel" thing was slightly intimidating to me for some reason, probably because it involves boiling corn syrup and sugar to the just-right stage of caramelization.  That just seemed like a level of precision that was beyond my level of competency and desire.  And I had heard too many stories about failed attempts by others.  But it became a curiosity and desire for me when my sister-in-law, Lisa,  kept asking if I had a recipe for caramel corn, so I decided to try it out for myself.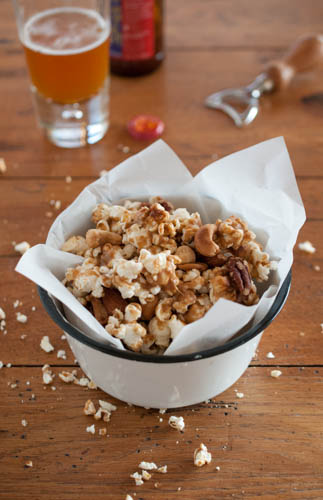 I had several recipes for caramel corn that I had cut out over the years in my expansive "to try" file.  I was happy to see that none of the recipes required the use of a candy thermometer, because that seemed to simplify things.  The recipe that I ended up using was a modified version of Kendall-Jackson's Double Gold Caramel Corn, which they tout as a perfect snack pairing with one of their Chardonnays.  I think "Chardonnay" was probably the selling point for me, so I tried it.  The results were good, but I ended up making it again a few days later and increasing the recipe for the caramel which provided more caramel coating.  The popcorn just seemed to need a little more coating to hold it all together, probably due to the addition of the nuts.  The result is a sweet and salty caramel corn that we're finding to be a little addictive.  We've easily worked our way through two large containers of it in just a few days.