Life of Pi(e)
On Friday, I was sitting here having one of those serious "what was I thinking" moments.  My family Thanksgiving get together at my sister's house was less than 24 hours away.  I had volunteered to bring, among other things, a couple of pies.  Pumpkin, for obvious reasons, and chocolate cream, because the chocolate cream reminds everyone of our mom.  This should not have been a big deal.  I've been making pies for years.  But, I've been making them with store-bought crusts.  Our big family secret to perfect pies always included the red box out of the dairy section.  For several reasons, personal pride, ambition, our daughter's inspiration and encouragement (and perhaps just a hint of chagrin at my crusts-from-a-box), I decided that I would learn to master making pie crusts from scratch this year.  You know the kind I'm talking about.  The old fashioned ones, made with ice cold ingredients that make that super flakey crust you see on Crisco commercials.  And, of course, I waited to take this on until the day before I needed to be good at it.
However, I've been anticipating this day for a while.  I started preparing by eating a lot of pie.  And by collecting recipes and tips from experts I found in various articles I read.  Equipped with my stack of written paraphernalia, I hit the kitchen hard yesterday morning.  Hours later, I was covered in flour, and I had finished the two pies, but I was feeling less than elated with the results.  One of the tips from a pie-making expert said to roll the dough thick, because you want your crust to be "generous."  So, for the first pie I did just that.  Well, the crust was, without a doubt, generous.  There was a LOT of crust to this pie.  It didn't help that my new glass pie pan (bought specifically for this purpose) was the size of a hub cap. The pumpkin pie looked like the sad, misguided skinny girl who made an unfortunate choice in prom dresses and purchased a dress consisting of one too many layers of ruffles.  The girl just gets lost in the dress.  It's all about proportions, after all.  I mean, in regards to the pie, the filling was there, you just had to look a little bit to find it.  I rolled the second crust thinner but it lost some of its shape as it baked, so in the case of the chocolate cream pie its frame is a little lackluster.  If my worst case scenario is unattractive appearances, I can live with that. My real fear was that the crusts would be chewy, not light and flakey as they should be.  And of course that wouldn't be known until the pies were served.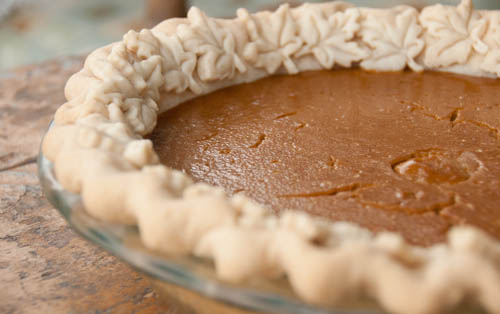 You know how I've talked about being realistic about your skills and level of effort you're willing to put into something?  This was a case of my overestimating my skill and ability.  I really thought I'd be able to master it.  The first time I tried it.  With nothing as a back-up plan except a trip to Costco to buy a couple of their pies.  So, I just focused on the positives.  One, my pies will be eaten by family.  My family has to love me regardless of my pie crusts.  Two, I'm confident the fillings turned out well.  I've had lots of practice at those. And, three, there will be whipping cream.  Whipping cream has saved bigger disasters than this on more than one occasion.
So, my pies and their crusts made their debuts yesterday.  I won't say they received standing ovations, but they were edible.  And the pumpkin pie even got some honorable mentions for the crust.  So, I'm sharing recipes for the pies and until I master the crusts, I'll just let you provide your own.
Get recipes:
Pumpkin Pie
Mom's Chocolate Cream Pie