A recipe from EntertainingCouple.com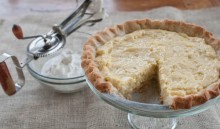 Coconut Cream Pie
The Hostess' father's all-time favorite pie. While she's still struggling a bit with her recipe for the crust, this pie tastes fantastic! Read our post for more info...

Recipe
Ingredients:
1 9-inch baked pie crust
5 egg yolks
2/3 cup sugar
1/4 teaspoon salt
1/4 cup cornstarch
1 cup half and half
1 1/2 cups whole milk
2 tablespoons butter
2 teaspoons vanilla
1 1/2 cups sweetened flaked coconut
1 cup heavy/whipping cream
1 tablespoon rum
2 tablespoons powdered sugar
Directions:
Prepare pie crust; cool.
In a small bowl, whisk together the egg yolks, sugar, salt and cornstarch.  The mixture will be thick.
In a heavy saucepan over medium heat, warm the half and half and milk until bubbles form.  Remove from the heat.
Temper the egg mixture by adding about 1/3 cup of the warm milk to it and whisking until smooth.  Gradually whisk the tempered egg mixture into the milk mixture.  Return the pan to the heat and cook, over medium-low heat, whisking constantly until the mixture thickens and coats the back of a spoon.  Remove from the heat and add the butter and vanilla, and whisk to combine.  Stir in the coconut.
Immediately pour into the cooled pie crust.  Place plastic wrap over the filling (ensuring it covers the surface directly to prevent a skin from forming) and refrigerate for a couple of hours before serving.
Serve with whipped cream prepared with rum and powdered sugar.
* Note:  Total time includes 2 hours for chilling in the refrigerator before serving.
Total time: 2:30* hr | Prep: 20 min | Cook: 10 min