A recipe from EntertainingCouple.com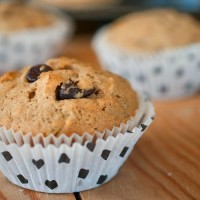 Zucchini Chocolate Chip Muffins
Got zucchini? These delicious muffins are a great way to put a serving of vegetables into a healthy treat! Read our post for more info...

Recipe
Ingredients:
3/4 cup sugar
1 large egg
1/2 cup vegetable oil
1/4 cup milk
1 tablespoon vanilla
1 teaspoon baking soda
1 teaspoon cinnamon
1/2 teaspoon salt
1 1/2 cups all-purpose flour
1 cup shredded/grated zucchini
1/4 cup chocolate chips
1/2 cup chopped walnuts
Directions:
Place an oven rack in the middle of the oven and preheat to 350 degrees.  Prepare a 12 cup muffin tin by greasing or lining with paper liners.
In the bowl of a standing mixer that's fitted with the paddle attachment, combine the sugar and egg until thick and yellow.  Add the vegetable oil, milk and vanilla and beat until well combined.  Sprinkle the baking soda, cinnamon and salt over the egg mixture.  Add the flour and blend just until moistened.  Fold in the zucchini, chocolate chips and walnuts.
Fill each muffin cup 2/3 full.  Bake at 350 degrees for about 25 minutes or until an inserted toothpick comes out clean.
Remove the zucchini chocolate chip muffins from the tin and cool on a wire rack.  Store your zucchini chocolate chip muffins in an air-tight container.
Total time: 45 min | Prep: 20 min | Cook: 25 min