A recipe from EntertainingCouple.com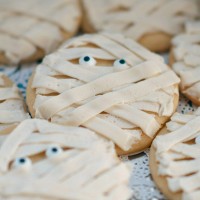 Sugar Cookies with Vanilla Buttercream Frosting
Frosted sugar cookies are a fun treat any time of year. For Halloween we made mummies! Read our post for more info...

Recipe
Ingredients:  (Makes about 3 dozen large cookies.  The recipe can be cut in half.)
Cookies:
2 cups (4 sticks) butter, at room temperature
3 cups sugar
4 eggs
3 teaspoons vanilla
1 teaspoon salt
5 1/2 cups all-purpose flour
Frosting:
1 cup (2 sticks) unsalted butter, at room temperature
1 teaspoon vanilla
6 – 8 cups powdered sugar
1/2 cup half & half
Directions:
Cookies:
In a bowl of a standing mixer fitted with the paddle attachment, cream the butter, sugar until smooth and creamy.  Beat on medium speed until pale yellow and fluffy (about 2 minutes).
Add the eggs, one at a time, making sure each is incorporated before adding the next one.  Add the vanilla and salt, and mix well.
Mixing on low, gradually add the flour (about 1 cup at a time) until just blended.  Do not over mix.  (The dough may be slightly sticky.)
Divide the dough into 4 equal portions and cover each in plastic wrap (or place in large Ziploc bags) and pat or roll each to about a 1/2-inch thickness.  Chill well; about 2 hours or overnight.
When ready to bake the cookies, place the oven rack in the middle of the oven and preheat oven to 375 degrees.  Line a cookie sheet with parchment paper and set aside.
On a floured surface, roll out dough, one chilled portion at a time, to desired thickness.  (The thinner the cookie, the crisper it will be.)  Cut out cookies in desired shape.  Transfer cookies to the parchment-lined cookie sheets.  Bake until set and slightly golden around the bottom edge, about 12 minutes.
Cool completely before frosting.
Frosting:
Place the butter in the bowl of a standing mixer fitted with the paddle attachment.  Add 4 cups of the powdered sugar.  Start on low speed and mix until combined and creamy.  Add the half & half and vanilla and mix well.  (It may look lumpy and curdled at this point.  But don't panic.)  Increase the speed to medium and mix until light and fluffy, about 3 or 4 minutes.  Gradually add the remaining powdered sugar, 1 cup at a time, beating well after each addition, about 1 minute on medium-high.  Add enough sugar to reach your desired consistency (and don't use all 8 cups if you don't need it).  Scrape down the sides of the bowl as necessary.
Add a few drops of food coloring, if desired.  Use (and store) at room temperature.
*Note:  Total time for this recipe includes 2 hours for chilling the dough, and 30 minutes for the cookies to cool before frosting.
Total time: 3.5* hr | Prep: 45 min | Cook: 12 min