A recipe from EntertainingCouple.com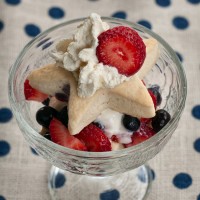 Buttermilk Shortcakes
These buttermilk shortcakes serve as the perfect base on which to build a spectacular strawberry shortcake. Read our post for more info...

Recipe
Ingredients:
2 cups all-purpose flour
1/4 cup sugar
2 teaspoons baking powder
1/2 teaspoon salt
10 tablespoons (1 1/4 sticks) chilled butter, cut into about 10 pieces
2/3 cup chilled buttermilk
1 tablespoon vanilla
Directions: (Click here for helpful pictures)
Place the oven rack in the middle of the oven and preheat the oven to 375 degrees.  Place a piece of parchment paper on a cookie sheet.
In the bowl of a food processor, use the pulse button to combine the flour, sugar, baking powder and salt.  Add the butter (very cold and cut into about 10 pieces) and process until the mixture resembles coarse meal.
In a measuring cup, add the vanilla to the buttermilk.  While running the food processor on the dough setting, slowly add the buttermilk mixture (through the pour tube) until the dough forms into a ball.
Turn the dough onto a lightly floured surface and knead until the dough is no longer sticky.
Using a rolling pin, roll the dough to  3/4" to 1-inch thickness.  Cut out the biscuits using a 2 1/4 inch biscuit cutter (or cookie cutter for a specific shape).  Place the shortcakes on the prepared baking sheet, spacing evenly.
Bake in the preheated oven 18 – 20 minutes or until golden brown around the edges.
Serve with berries, ice cream (optional) and whipped cream.
Total time: 1 hr | Prep: 40 min | Cook: 20 min