A recipe from EntertainingCouple.com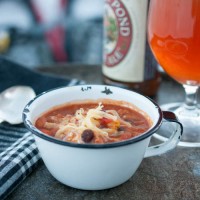 Chili
Some diehard chili cooks feel quite strongly that something called "chili" should not contain beans. Our recipe runs contrary to that opinion. Read our post for more info...

Recipe
Ingredients (makes 8 – 10 ample bowls of chili):
2 tablespoons olive oil
1 small yellow onion, chopped (about 1 cup)
1 each yellow, red and orange bell pepper
1 pound ground turkey or lean ground beef
3 (14-ounce) cans diced tomatoes
2 (15-ounce) cans red kidney beans, drained
1 (15-ounce) can white kidney beans, drained
1 (15-ounce) can pinto beans, drained
1 (15-ounce) can tomato sauce
2 cups V8 vegetable juice
2 – 2 1/2 teaspoons chili powder (or to taste)
1/2 teaspoon black pepper
1 15-ounce can sweet corn niblets
Toppings:  Grated cheddar cheese and sour cream
Directions:
Slice the peppers and remove the seeds, stems and membranes.  Dice the peppers.
In a stock pot, over medium heat, heat the olive oil until shimmering.  Add the onion and diced peppers and cook until the vegetables begin to soften, about 10 minutes.  Add the meat and cook until brown.  Drain excess fat if necessary.
Add the diced tomatoes (with juice), beans, tomato sauce, V8 juice, chili powder and black pepper, and stir to combine.  Cover and simmer over low heat for about 30 – 45 minutes, stirring occasionally.
Add the corn and cook uncovered for another 30 minutes, stirring occasionally.
Serve with grated cheddar cheese and a dollop of sour cream.
Total time: 2:30 hr | Prep: 30 min | Cook: 2 hr