Best. Cake. Ever.
The truth is I don't make cakes very often.  And the reasons are pretty simple.  First, a big cake goes a long way, and unless there are several people indulging, it seems a little like overkill to me.  And, second, unlike some desserts, there isn't a good way to test it before serving it to guests.  And that always makes me slightly nervous.
But I was asked to bring a chocolate dessert to a birthday dinner party lately (specifically chocolate, for the birthday boy), and I immediately thought of a cake that I had seen in my Pastry Queen cookbook at one time.  It's called a Tuxedo Cake and it seemed to be the right thing for the party.
It wasn't a quick cake to make.  From start to finish, it probably took over 3 hours.  But let me just say this.  Best.  Cake.  Ever.  One of the guests said more than once, "I don't really care for cake.  But I want to eat that whole thing."  It was really that good.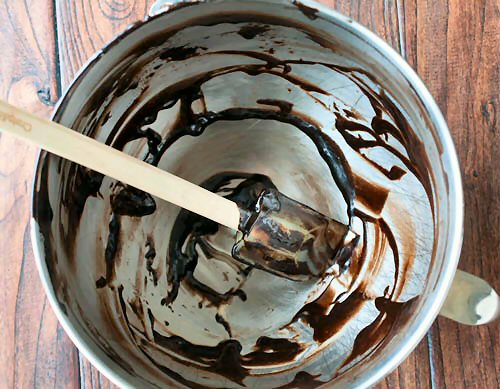 I ended up using parts from 3 different recipes.  While the traditional Tuxedo Cake calls for a whipped cream frosting, I wasn't sure I could keep the cake refrigerated and was afraid that the whipped cream would break down a little between prep and serving.  The Swiss Meringue Buttercream turned out to be a great frosting for the deep, dark chocolate cake.  It isn't as sweet as some frosting but it can hold it's own against a strong star, like the cake.  I had wanted to make this frosting for a while but had been a little (okay, a lot) intimidated by all the woeful stories I had read about people's attempts, and failures, at making this frosting.  (Perhaps it was the consistent use of the term "curdles" that caused my alarm.)  But armed with some good tips from Epicurious.com, I chanced it.  And I'm so glad I did.  Finally, while Tuxedo Cakes are  generously covered with the ganache, I found that I only needed about half of the recipe to get the coverage I wanted.
Now I'm just sitting here hoping someone calls and invites us to some get-together and asks me to bring a chocolate cake so I can make this one again.
Happy entertaining!