A recipe from EntertainingCouple.com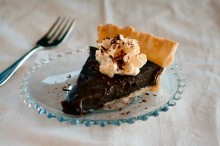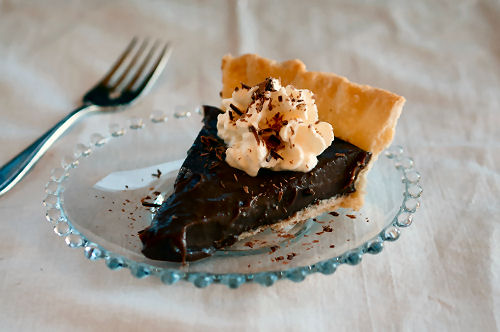 Mom's Chocolate Cream Pie
The Hostess learned to make this delicious pie from her mom. A recipe for homemade crust is in the works and will be added soon. Or maybe not... Read our post for more info...

Recipe
Ingredients:
1 9-inch baked pie crust
1/2 cup sugar
1/3 cup all-purpose flour
1/4 teaspoon salt
2 cups whole milk
2 squares (2 ounces) unsweetened chocolate, chopped
3 egg yolks
3 tablespoons butter
1 teaspoon vanilla extract
Whipping cream, for topping
Directions (Click here for helpful pictures):
Prepare pie crust and allow to cool.
Separate the yolks from the whites into a small bowl and set aside.
In a heavy 2-quart saucepan, using a wooden spoon, combine sugar, flour and salt.  Add the milk and stir to combine.  Stir in the chocolate.
Over low heat, cook the mixture, stirring constantly, until the chocolate is completely melted.  As you stir, you should see a little steam coming up from the pot.  (The mixture may look speckled at this stage.)
With a wire whisk, beat until the chocolate is blended.  Increase the heat slightly to medium.  Cook, stirring constantly, until the mixture is thickened and it begins to bubble slowly.  Remove at once from the heat.
Whisk the eggs yolks.  Add a small amount of the hot chocolate mixture (several spoonfuls) and whisk until well combined.
Slowly pour the egg mixture into the saucepan, stirring constantly as you pour.  Over low heat, cook the mixture, stirring constantly, until very thick.  (The mixture should mound when dropped from the spoon.)  Do not allow it to boil.
Remove from heat.  Stir in the butter and vanilla.  Pour the filling into the prepared pie crust.  Cover the surface with plastic wrap, pressing it directly onto the surface (to prevent a skin from forming) and refrigerate several hours until set.
Serve with whipping cream.
Total time: 45 min | Prep: 45 min | Cook: N/A