A recipe from EntertainingCouple.com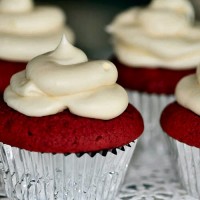 Red Velvet Cupcakes
Red velvet cupcakes are a traditional recipe dating back at least 100 years. They have not lost their popularity, as evidenced by how quickly they disappear when we serve them. Read our post for more info...

Recipe
Ingredients (makes 24 large or 48 mini cupcakes):
Cupcakes:
2 1/2 cups all-purpose flour
1 teaspoon salt
1 teaspoon baking soda
2 tablespoons unsweetened cocoa powder
1/2 cup unsalted butter, at room temperature
1 1/2 cups sugar
2 eggs
1 cup buttermilk
1 teaspoon white vinegar
2 teaspoons vanilla
2 tablespoons red food coloring
Cream Cheese Frosting:
1 (8 ounce) package cream cheese, at room temperature
1/2 cup (1 stick) unsalted butter, at room temperature
4 cups powdered sugar
1 – 2 tablespoons milk or cream
1 teaspoon vanilla extract
Directions:
Cupcakes:
Preheat oven to 325.  Line 2 12-cup, or  2 24-cup, mini muffin pans with cupcake liners.
In a small bowl, sift together the flour, salt, soda and cocoa.  Set aside.
In a large bowl of a standing mixer, cream the butter and sugar and blend on medium speed until light and fluffy, about 2  – 3 minutes.  Add the eggs, one at a time, beating well after each addition.
Add the buttermilk to the batter in three parts, alternating with the flour.  Beat well to combine after each addition, scraping down the sides of the bowl as necessary.  Do not over-beat.  Add the vinegar with the last third of the buttermilk.
Add the vanilla extract and red food coloring, mixing just until combined.
Divide the batter evenly among the prepared muffin tins.  Each tin should be about 2/3 full.  Bake large muffin tins for 20 – 22 minutes or mini muffin tins for 15 – 18 minutes.  Test the cupcakes with a toothpick for doneness.  Remove from the oven and cool completely before frosting.
Cream Cheese Frosting:
In a large bowl of a standing mixer, blend the cream cheese and butter until smooth.  On low speed, add the powdered sugar, vanilla extract and 1 tablespoon milk/cream and beat until incorporated and smooth.  Add up to an additional tablespoon of milk/cream if necessary.  Increase the speed to medium-high and mix until light and fluffy.
When the cupcakes have cooled, frost generously.
* Cook time is per pan
Total time: 2 hr | Prep: 1 hr | Cook: 20-22* min