A recipe from EntertainingCouple.com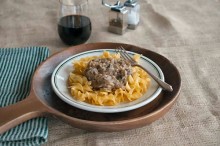 Recipe
Ingredients (serves 6):
2 pounds top sirloin, at room temperature
1/2 teaspoon salt
1/2 teaspoon pepper
1 cup red wine
3 cups beef broth
5 sprigs fresh thyme
1 bay leaf
3 tablespoons olive oil
2 tablespoons butter
1 small onion, chopped (about 1 1/2 cups)
2 cups fresh mushrooms, sliced
3 cloves garlic, chopped
4 tablespoons all-purpose flour
1 teaspoon prepared (Dijon) mustard
2/3 cup sour cream
1 package egg noodles
Directions:
Trim any visible fat from the beef and cut it into 1″ cubes.  Place the beef in a glass bowl and add the wine, salt and pepper and toss to coat well.  Allow the beef to marinate for 30 minutes.
In a saucepan, heat the beef stock with the thyme and bay leaf.  Allow to simmer over a low heat until ready to use.
In a large skillet over medium heat-high, heat the olive oil.  Using tongs or a slotted spoon, transfer the beef to the skillet.  (Discard the marinade.)  Brown the beef, turning to brown on all sides.  Cook in batches if necessary to ensure even browning.  Remove the beef and set aside.
Lower the heat to medium, and add 2 tablespoons butter.  When the butter is melted, add the onions and mushrooms and cook until the onions are are soft, about 5-7 minutes.  Add the garlic and cook an additional minute.
Add the flour and stir to combine with the drippings in the pan.  Remove the thyme and bay leaf from the warmed beef broth and slowly add the broth to the onion/mushroom mixture.  Cook, stirring constantly, until thick.
Add the meat and stir well.  Reduce heat to low; cover and simmer for 1 – 1 1/2 hours, stirring occasionally and scraping the bottom of the pan if necessary.
Meanwhile, cook the egg noodles according to package instructions.  (Start preparing them about 30 minutes before the stroganoff mixture is done.)  Drain the noodles well and toss with remaining butter.
Remove the stroganoff from heat and fold in the mustard and sour cream.  Taste, and add salt and pepper if necessary.
Serve the stroganoff over the noodles.
* Note:  Total time includes 30 minutes for marinating the beef.
Total time: 2* hr | Prep: 60 min | Cook: 30 min