A recipe from EntertainingCouple.com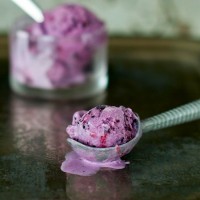 Lemon Blackberry Ice Cream
I decided to make some lemon ice cream, and my need to use up some blackberries turned it into lemon blackberry ice cream. In a word, yummers! Read our post for more info...

Recipe
This recipe will make enough for 2 batches in a 2 quart ice cream maker, like the Cuisinart
.  I make the whole thing and just keep the custard in the refrigerator for another day.  But you can halve the recipe as well.
Ingredients:
2 cups whole milk
1 cup sugar
4 egg yolks (room temperature)
3/4 cup lemon juice (about 2 – 3 lemons)
1 tablespoon lemon zest
1/4 teaspoon salt
2 cups half and half
1 cup whipping cream
2 teaspoon vanilla
1 cup pureed blackberries
Directions:
At least 2 hours before you want to make the ice cream, you'll need to make the custard, as it needs to cool.  You can even make it the day before.
If you don't keep the ice cream bowl in your freezer, place it into the freezer.  It requires several hours (up to 24) of freezing before using.
To puree the blackberries, I just use a potato masher and mash away until the fruit looks more like pulp than berries.
For the custard (click here for how-to pictures):
Whisk egg yolks, sugar and salt in a small bowl.  Set aside.
In a heavy saucepan, cook the milk, over medium-high heat, until small bubbles form around the edge and you see steam rising from the pan.
Temper the eggs by slowly pouring the warm milk to the eggs/sugar mixture in half cup increments, whisking as you go.  Once all the milk has been integrated, pour the mixture back into the pan.
Over medium heat, cook the custard, stirring constantly, until thickened and coats the back of a metal spoon.  (If you're using a thermometer, it will read about 170 at this point.)  Remove immediately from the heat.
Remove from heat, transfer to a large bowl and allow to cool for about 10 minutes.  Whisk in the half-and-half, cream and vanilla.
Cover the custard with plastic wrap.
Refrigerate for a minimum of 2 hours.  Custard can cool overnight.
To make the lemon blackberry ice cream:
Pour the custard (half if you've made the full recipe) into the ice cream maker bowl, and operate according to manufacturer's instructions.  Freezing usually takes 30 – 45 minutes.
After the custard begins to thicken, add the pureed blackberries and continue churning until the ice cream is done.
Hostess' Hint:  If the concept of making a custard, and/or tempering eggs is foreign and intimidating to you, click here for a great how-to video.  The process is just slightly different than the one I've outlined in the recipe.
* Note:  Total time includes at least 2 hours for refrigerating the custard.
Total time: 3.5* hr | Prep: 60 min | Cook: 30 min