A recipe from EntertainingCouple.com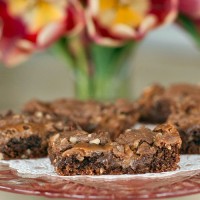 Caramel Layer Chocolate Squares
If you don't really consider yourself a baker, but you're on the hook to bring the dessert to some potluck or dinner, this is the dessert for you. Read our post for more info...

Recipe
Ingredients:
11 ounces caramels (either squares [about 50] or bits)
2/3 cup evaporated milk, separated
1 package German chocolate cake mix
1/2 cup butter, melted
1 cup walnuts, chopped
1 cup chocolate chips
Directions:
Place the oven rack in the middle of the oven and preheat to 350 degrees.  Butter the bottom of a 9×13 glass pan.
In a small, heavy saucepan, place caramels and 1/3 cup evaporated milk.  Cook over low heat, stirring occasionally, until melted.
In a mixing bowl, combine by hand (using a wooden spoon) the cake mix, melted butter, 1/3 cup evaporated milk and chopped nuts.  Mix until well combined.  Press half of the cake mixture into the bottom of the prepared pan.  Bake for 6 minutes.
Remove the cake from the oven and sprinkle the chocolate chips evenly over the crust.  Pour the caramel evenly over the chocolate chips.  Crumble the remaining cake mixture on top of the caramel.  Return to the oven and bake for an additional 18 minutes.  The cake will look gooey so you just have to trust that it's done.
Cool for about an hour before cutting.  If you want the caramel "set," refrigerate before serving.
*Note:  1:45 total time to make the caramel layer chocolate squares includes an hour for cooling.
Total time: 1:45* hr | Prep: 20 min | Cook: 25 min