A recipe from EntertainingCouple.com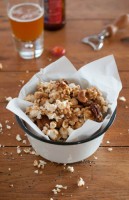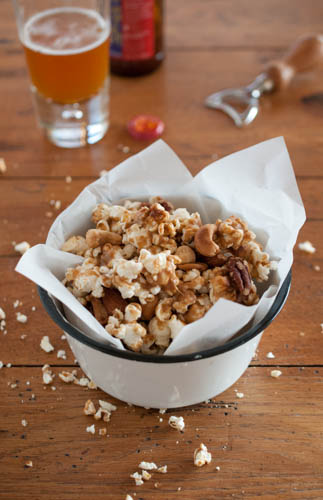 Recipe
Ingredients:
12 cups popped popcorn, unsalted and unbuttered
Non-stick vegetable cooking spray
3/4 cup unsalted butter
1 1/2 cups golden brown sugar
6 tablespoons light corn syrup
1 teaspoon vanilla
1/2 teaspoon baking soda
2 1/2 teaspoons kosher salt
2 cups salted nuts (mixed, peanuts or other)
Directions:
Preheat oven to 300 degrees.  Line a large (10 x 15) rimmed baking sheet with aluminum foil and spray lightly with non-stick vegetable cooking spray.
Lightly grease a very large bowl (15″) with non-stick vegetable cooking spray.  Place popcorn in the bowl and set aside.
In a heavy, medium saucepan, melt the butter over medium heat.  Add the brown sugar and stir until melted.  Add the corn syrup and stir until well combined.  Cook, over medium heat, without stirring for 4 minutes.  The mixture should reach a soft boil.
Continue cooking for an additional 4 minutes, stirring well with a rubber spatula about every thirty seconds.  Remove from heat and stir in the vanilla and stir well.  Add the salt and baking soda, again stirring until well combined and the salt has dissolved.  Beat briskly until the mixture is lighter in color and has thickened slightly.
Working quickly, pour the caramel mixture over the popcorn in the large bowl.  Toss with two utensils (like a salad) until the popcorn is well coated.
Pour the popcorn onto the prepared baking sheet and spread into an even layer.  Sprinkle the nuts over the popcorn, pressing the nuts lightly into the popcorn.  The caramel will be hot, so be careful not to burn yourself.
Bake for 20 minutes, stirring or turning the popcorn every few minutes (3 – 4 times during the baking process).  Incorporate the nuts when you turn the popcorn.
Place one long sheet of parchment paper on a flat surface.  Remove the caramel corn from the oven and spread the cooked caramel corn onto the parchment paper.  Allow to cool for a couple of minutes and then separate into small clusters if necessary.  Allow to cool completely.
Caramel corn can be stored in an airtight container for up to a week.
Hostess's tips:  (1) Get everything ready before you start.  Prepare the bowls and baking sheet; get the vanilla, salt and soda ready.  (2) When the caramel corn is in the oven, it can be a little tricky to stir it.  A big rubber spatula seems to do the trick for me.  You just want to mix the popcorn and nuts into the warm caramel to try and evenly coat the popcorn and nuts.  (3) If you pop your own popcorn, which I do, make sure you pick out all of the un-popped kernels.  If you're popping your own, I find that 2 tablespoons oil and 2/3 cup popcorn make the right amount of popcorn for the recipe.
Total time: 35 min | Prep: 15 min | Cook: 20 min