A recipe from EntertainingCouple.com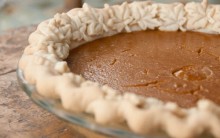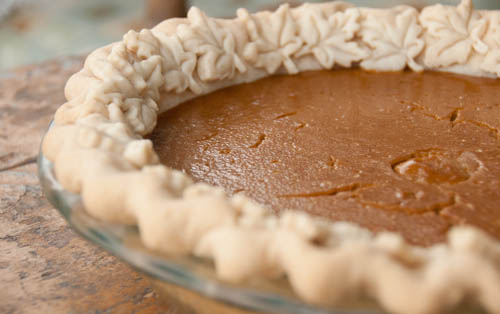 Recipe
Ingredients:
1 9-inch unbaked pie crust
1/2 teaspoon salt
1/4 teaspoon ground Allspice
1 teaspoon ground cinnamon
1 teaspoon all-purpose flour
1 16-ounce (2 cups) canned pumpkin puree
3/4 cup brown sugar
2 eggs, slightly beaten
1 12-ounce can undiluted evaporated milk
1 teaspoon vanilla extract
Whipping cream for topping
Directions:
Prepare the pie crust.  Preheat oven to 400 degrees.
In a small bowl, combine the salt, Allspice, cinnamon and flour.
In the bowl of a mixer, combine the pumpkin and sugar until well blended.  Add the eggs and mix well.  Add the dry ingredients and mix until well blended.  Gradually add the milk, blending until well incorporated.  Add the vanilla and blend.
Carefully pour into the unbaked pie shell.  Bake at 400 degrees for 15 minutes.  Reduce the heat to 350 and bake an additional 30-35 minutes, or until the center is set.
Serve with whipped cream.
Total time: 1:15 hr | Prep: 30 min | Cook: 45 min