A recipe from EntertainingCouple.com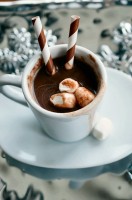 Hot Chocolate
Inspired by Perfect Hot Chocolate from Food52. The perfect drink on a "snow day" for young and old alike. Read our post for more info...

Recipe
Ingredients (makes 1 cup):
2 – 3 tablespoons semisweet chocolate chips
1 tablespoon unsweetened cocoa powder
1 cup (whole) milk
1 – 2 tablespoons sugar (to taste)
1 pinch of salt
Directions:
In a saucepan, mix the chocolate chips, cocoa powder and 1/2 the milk over low heat.  Stir, or whisk, continuously until the chocolate is completely melted.
Add the rest of the milk, sugar, and salt.  Stir.  Heat until completely warm (and you begin to see steam).
Pour into a mug and top with marshmallows or whipped cream, if desired.
Total time: 10 min | Prep: 5 min | Cook: 5 min