The Perfect Valentine's Day Treat
Say "I Love You" with a cupcake.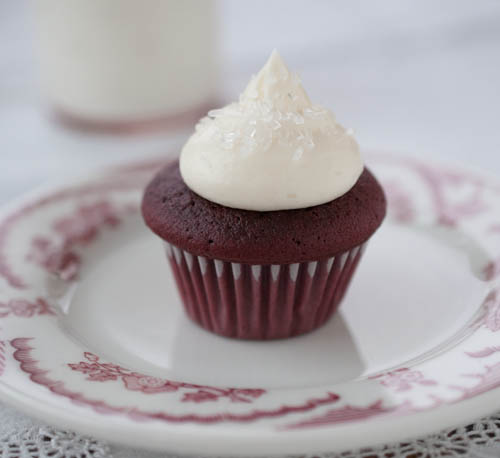 I've spent a fair bit of time around pastries.  Probably more time consuming them than preparing them, but still enough time to know a good one when I eat it.  So, if you're like me and are somewhat of a pastry aficionado, you're probably familiar with Red Velvet.  It shows up frequently on menus and and in bakeries.  The original recipes seem to date back to the 1800's, although I'm guessing that, by name alone, it got a bad rap during the "red dye #6 scare" in the 50's.  However, Red Velvet seems to have survived time and the FDA and has kept its rightful place as a well-loved dessert.  If you're interested in the colorful (no pun intended) history of the cake, you can read it here.
When it comes to cake, I'm a firm believer that cake simply exists because it is a more socially acceptable way to eat frosting than with a spoon.  That's probably why I like mini-cupcakes.  The cake to frosting ratio is a pleasing proportion for a frosting enthusiast like me.  It seems that the original recipes for Red Velvet Cake called for an ermine or boiled milk frosting which I'm curious to try sometime when I'm playing bakeress in the kitchen, although quite frankly neither name does much to entice me.  (Ermine? Really?  What marketing genius decided that was the perfect name for a frosting?)  Regardless, for my Red Velvet Cupcakes, I use a cream cheese frosting.
But even with enough frosting, if the cake is dry and bland, there's just really no point in it.  Velvet, as in Red Velvet, supposedly refers to the velvety crumb of the cake.  A moist, chocolate-y cake with cream cheese frosting.  The red is really just a little bling to make it the star of the party.