A recipe from EntertainingCouple.com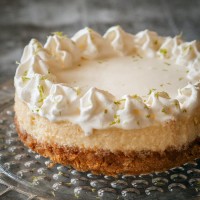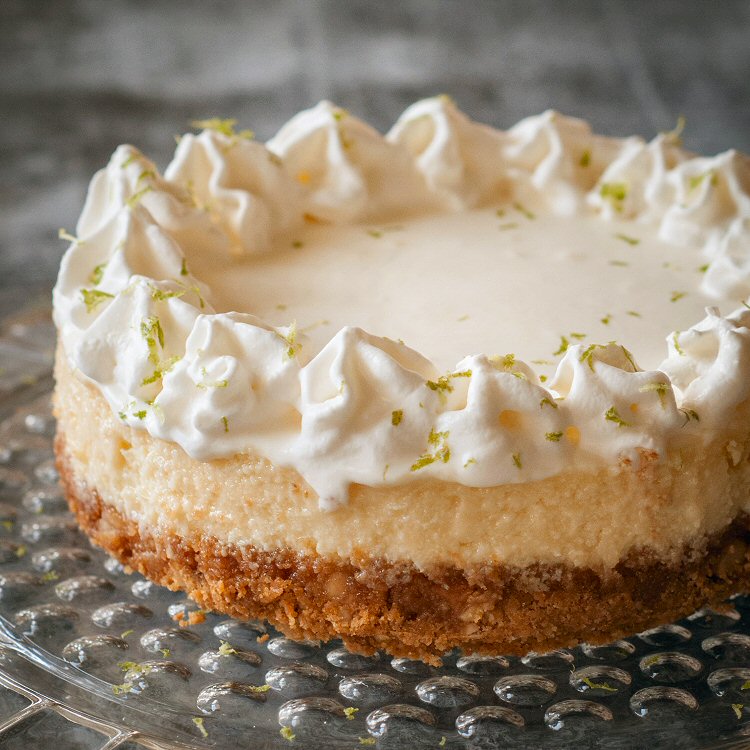 Key Lime Pie With Macadamia Nut Crust
I've been making this Key Lime Pie recipe for years. The macadamia nuts in the crust are a spectacular addition. Read our post for more info...

Recipe
Ingredients:
Crust:
1 cup graham cracker crumbs
1/2 cup macadamia nuts, chopped finely
2 1/2 tablespoons sugar
4 tablespoons butter, melted but still warm
Filling:
2 large eggs
2 (14 ounce) cans sweetened condensed milk
1 1/4 cups key lime juice (about 1 1/2 pounds, depending on size)
Topping:
1 (7.5 ounce) package crème fraîche
2 tablespoons powdered sugar
Whipping cream for garnish/topping
Key lime zest for garnish
Directions (click here for pictures and our post):
Crust:
Place the oven rack in the middle of the oven and preheat to 325 degrees.
Butter the bottom and sides of a 9″ springform pan.  Cut a piece of parchment paper to fit the bottom and place the parchment paper in the pan.  (Alternatively, this can be made in a 10" pie pan or a 9" fluted tart pan.
Melt the butter (I use the microwave) just until soft and melted.  In a bowl, mix together the graham cracker crumbs, nuts and sugar.  Add the butter and mix until it's all well combined.
Press the crumb mixture firmly over the bottom of the pan using the bottom of a measuring cup (or similar).  Bake in the preheated oven for 7 – 8 minutes or until lightly browned.
Filling:
Juice the limes to produce 1 1/4 cups lemon juice.  Strain if you have visible seeds or pulp.
In the bowl of a standing mixer fitted with the whisk attachment, whisk the eggs and on medium-high until pale yellow and frothy.  Add the sweetened condensed milk and mix until thickened and uniform in color.  With the mixer running on low, slowly add the lime juice and mix until well combined.
Pour the filling mixture into the crust.  Bake until the center is set but still a little jiggly.  Times will vary based on the pan you use.  Check it after 15 minutes for a shallow pan.  It may take up to 20 minutes to bake properly.  (Mine started to slightly pull away from the sides of the pan.)  Remove from the oven and cool on a rack for about an hour.
Topping:
Combine the crème fraîche and powdered sugar until smooth.  Spread evenly over the pie.
Cover key lime pie with foil and refrigerate for 6 hours (or overnight).  If you used a springform pan, run knife around the edge before releasing.
Serve with whipping cream and a sprinkle of lime zest.
*Note:  Total time for this recipe includes 1 hour of cooling time before adding the topping, plus 6 hours to chill in the refrigerator.
Total time: 8* hr | Prep: 30 min | Cook: 30 min