Time to Simplify
Some people start the new year like a runner leaving the start line of a big race.  A little start pistol seems to go off in their head and they are off and running, chasing resolutions and ambitions, intent on making it to the finish line before they lose their resolve.  Me?  Not so much.  I find that after the bustle of the holidays, I'm more inclined to mosey into the new year.  All I really want to do is declutter my house, take a deep breath, and get back to my normal, comfortable routine.
The holidays leave me with a bit of a hangover, both physically and emotionally, so I need a little detoxing.  Hopefully a little less wine, more quiet time, and real meals that don't include appetizer buffets. So, if I find that we are entertaining during the first weeks of the new year, like we've done this season, a bright neon sign flashes in my head saying, "Simplify."  So, simplify I did.  We served some of our good, basic meals (like chicken pot pies and pasta with vodka sauce) because I was craving a little comfort…and there is a lot of comfort in good comfort food.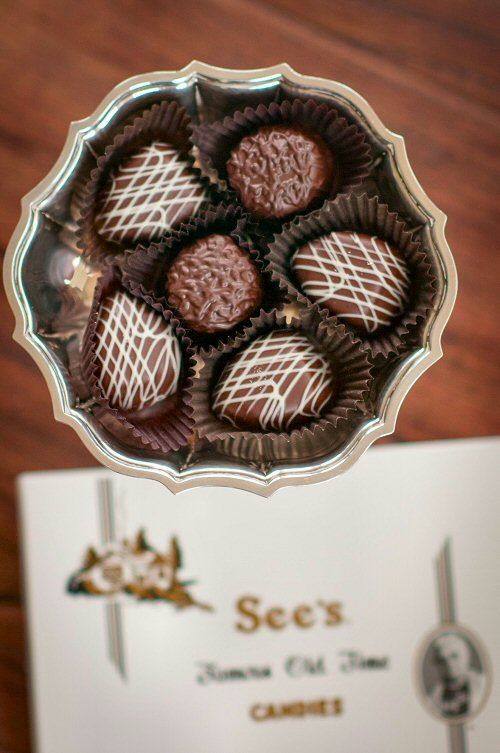 If you are having people to dinner and you need a simple dessert idea, here's what I do.  Serve some good chocolates with a good aperitif.  My favorite combination is dark chocolate (See's lemon and pineapple truffles are absolutely decadent) and Limoncello.  Sometimes I even take the chocolates out of the box and serve them from a fancy candy dish.  But not always.  We keep the Limoncello (and the glasses) in the freezer so we can serve it ice cold.  (Lukewarm Limoncello could be considered barbaric, so don't do it.)  And, speaking from experience, I can tell you this: You shouldn't be surprised if you and your guests finish the bottle.
Happy Entertaining!