Here comes Peter Cottontail…
While I know the the true meaning of Easter isn't the egg hunts or the candy-filled baskets, I have to admit I find all the cute bunny stuff a little hard to resist.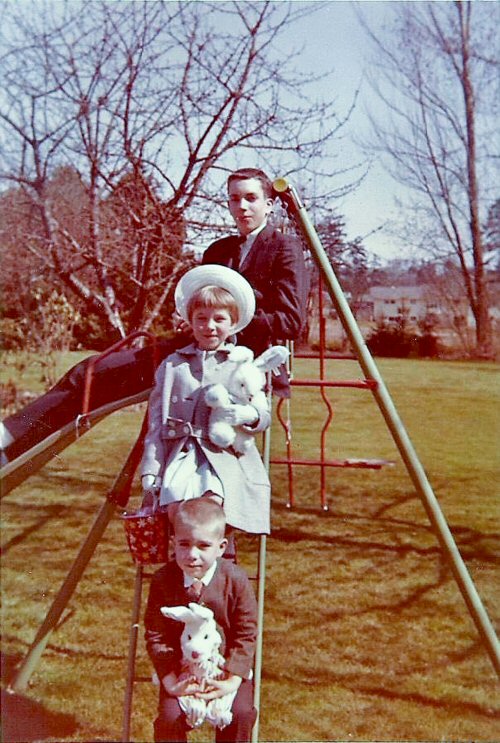 Easter is such a happy holiday.  And a perfect time to get together with family and friends to celebrate.  And, as much as I enjoy the holiday as an adult, I have to admit I miss the days when Easter was also the holiday when I got a brand new pair of patent leather shoes and a new hat.  Now that was reason to celebrate!
If you're hosting the celebration this year, here is a great Easter brunch menu.  There are several things you can do a day or two ahead of time to make Easter morning more relaxed (and give you time to go look for some of those colored eggs left behind by the Easter bunny).
A day or two before Easter:
Do all of your grocery shopping, including buying any flowers you want to use on your table.
Prepare the crust for the quiche and keep it in the refrigerator until you're ready to make the quiche.
Make the topping for the layered fruit salad.
Prepare and slice the fruit. (If you're using bananas, don't slice them until you prepare the salad.)  Alternatively, give yourself a real break and buy the ready-to-go fruit at the grocery store.
Set the table.
Chill the champagne.
You can even make the scones the day before. They'll keep well in an airtight container.
Listen to your mother's voice in your head and clean your guest bathroom.
Easter Brunch Menu
Fresh Orange Juice
Champagne (to make mimosas)
For our table, at each place setting I used Grandma's teacups.  These teacups have a very special history in the family.  Every year, Grandma and a group of her friends would get together to celebrate each other's birthdays.  For their birthday each year, they would receive a teacup from the group.  I'm not sure how many teacups Grandma accumulated, but I'm guessing she had over 30 of them.  We now are the proud owners of several of them, as are other grandchildren.  I was so happy to find a way to celebrate spring and honor Grandma on our Easter table.
Happy Entertaining!