Every Day is a Holiday With Nanaimo Bars
We're re-posting one of our most popular holiday recipes (originally posted in November of 2012).  Since Nanaimo Bars are an annual tradition for us, it seems appropriate to once again share them with you.  Happy Entertaining!
Every family has one, it seems.  That thing that defines the holidays for them.  Or at least the thing that they couldn't imagine having the holidays without.  For me, that thing is Nanaimo Bars.  And, I find that I can make any day a holiday with a Nanaimo Bar.
Nanaimo, British Columbia is located on Vancouver Island.  When I was a kid, we spent our summer vacations in a small cabin cruiser exploring the San Juan Islands.  On longer trips, we'd head across the border up to the Canadian waters.  Nanaimo was one of the ports that we'd frequently find our way to.  Once we got docked at the marina, Mom, my little brother and I would walk into town.  Mom was particularly fond of some bakery that was located there, which was worth the walk up the hill for the bread alone.
Back then, at least to me, Nanaimo was a small town.  All I really knew about it was that it was one of the places we docked that was actually located in a town as opposed to so many places we went where there wasn't much beyond the dock or gas pump that defined the place.  That, and we always seemed to catch salmon when we were close to Nanaimo.
But, what the town is really known for, in my family and throughout British Columbia, is Nanaimo Bars.  According to local legend, about 40 years ago a Nanaimo housewife entered her recipe for chocolate squares, named after her hometown,  in a magazine contest.  I guess this blog entry is proof that the housewife's recipe won.  Years later, in 1986, Nanaimo's mayor held a contest to find the ultimate Nanaimo Bar recipe.  I'm not sure where my Mom got the recipe.  She started making them long before the recipe contest or the birth of the internet, where now if you Google "Nanaimo Bars" you will get hundreds of results.  And Mom's recipe is slightly different than the recipes I found online.
These little squares of chocolate-y scrumptiousness became an annual Christmas tradition in my family.  To this day, every time I think about Nanaimo Bars, I am reminded of the Christmas that I arrived home from college a couple of hours after my two brothers.  Which was just enough time for them to do what brothers do best.  Come up with a devious plan meant only to inflict mental anguish and torment on their sister.  They hid the Nanaimo Bars, leaving only crumbs in the pan for me to find.  My predictability only played into their Machiavellian plan.  I walked through the front door, gave quick hello hugs to everyone, and then raced to the refrigerator.  Upon finding the empty pan, I cried.  Ah, nothing screams "Merry Christmas" quite like abuse from your siblings.
After Mom passed away, I got her handwritten copy of the recipe.  I now make them every year for Christmas, too.  And sometimes I make them whenever I need a little holiday in my life.  This year they helped us ring in the New Year.  And I'm thinking they may make our Valentine's Day a little sweeter, too.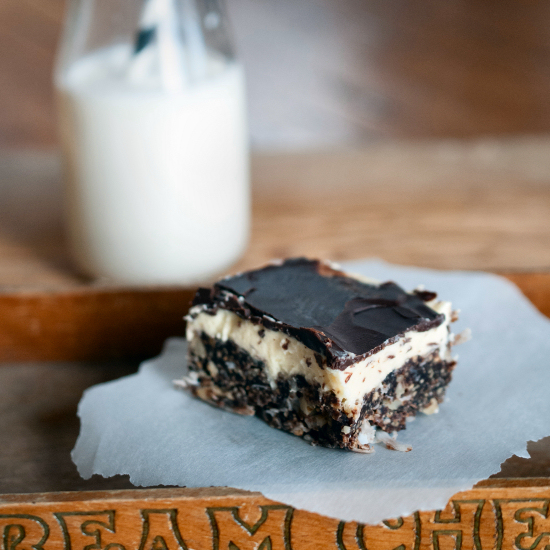 Happy Entertaining!