A recipe from EntertainingCouple.com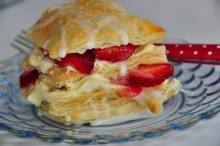 Strawberry Napolean
I think this dessert has been around for a long time. But I had never had it until a few months ago... Read our post for more info...

Recipe
Ingredients:
1 (3.4 oz) package instant vanilla pudding and pie filling
1 cup cold milk (2% is fine)
1 cup heavy whipping cream
1 teaspoon vanilla
1/2 package frozen puff pastry, thawed (according to package instructions)
1 pint fresh strawberries, thinly sliced
1/2 c powdered sugar
2 tsp milk
1 square semi-sweet chocolate, melted (optional)
Directions (Click here for some helpful pictures):
Preheat oven to 400 degrees.  Combine pudding mix and cold milk and whisk until thick. In a separate bowl, whip the cream and vanilla until soft peaks form; fold into the pudding/milk mixture and blend until smooth. Cover and refrigerate.
Unfold the thawed pastry on a cool, lightly floured surface.  Cut into 3 strips along the fold marks.
Line a cookie sheet with parchment paper.  Place the pastry strips on the cookie sheet.  Bake for 15 minutes or until golden brown.  Remove from the cookie sheet. Cool.
Using a sharp knife, split the pastries into 2 layers.  Set aside the best 2 for the tops.  Spread 2 of the pastry pieces with the pudding mixture.  Top each with a layer of the strawberries and then a small amount of pudding (this will help keep the strawberries in place).  Top with a pastry layer.  Repeat the pudding/strawberry layers.  Top with the reserved top pieces.
Mix together the powdered sugar and milk.  Drizzle over the top layers.
Chill at least one hour.
If using the chocolate, drizzle before slicing/serving.
Total time: 1 hr | Prep: 45 min | Cook: 15 min