A recipe from EntertainingCouple.com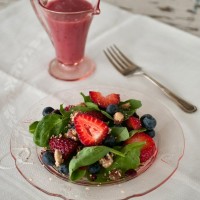 Recipe
Ingredients (serves 2; adjust quantities for more servings):
4 cups fresh spinach
4 – 5 strawberries, hulled and sliced
1/2 cup fresh blueberries
Sahale Snacks/Almonds with cranberries, honey and sea salt (or similar nut mix)
1 cup roasted chicken breast cut to bite sized pieces (if using)
Marie's All Natural Raspberry Vinaigrette
1 ripe avocado, peeled, and sliced
Directions:
Place the first 5 ingredients into a large bowl.  Add enough dressing to coat as desired.
Divide spinach salad evenly onto two plates.  Top spinach salad with avocado and serve immediately.
Note:  While we generally don't endorse specific products, and we aren't compensated for our recommendations, we do LOVE the nut mix from Sahale Snacks in our spinach salad.  Also, we haven't found anything we like better on our spinach salad than Marie's Raspberry Vinaigrette dressing.
Total time: 20 min | Prep: 20 min | Cook: N/A