A recipe from EntertainingCouple.com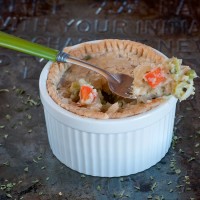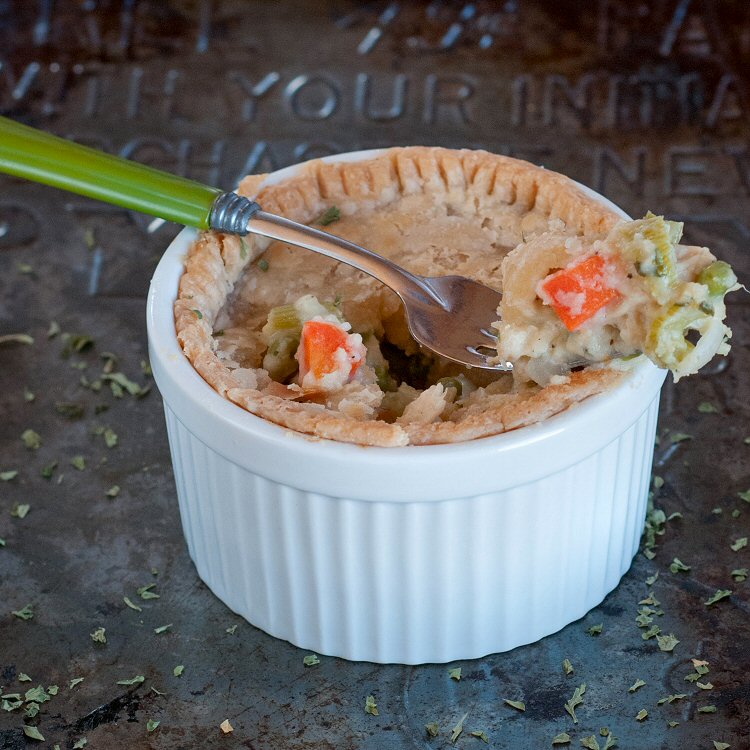 Recipe
Ingredients (makes 6 potpies):
Pie Dough
1 1/2 cups all-purpose flour
1/2 teaspoon salt
1/2 cup chilled unsalted butter, sliced
1/4 cup chilled vegetable shortening
4 – 5 tablespoons ice water
Potpie
6 tablespoons unsalted butter
1 large onion, diced (about 1 1/4 cups)
4 carrots, peeled and sliced thinly on the diagonal (about 1 1/2 – 2 cups)
4 celery stalks, sliced thinly (about 1 1/2 – 2 cups)
1/2 cup all-purpose flour
1 1/2 cups milk
2 cups chicken broth
1/4 cup sherry
2 1/2 cups cooked chicken, cut to bite-size pieces
1 teaspoon chopped fresh thyme leaves
2 tablespoons chopped parsley
3/4 cup frozen peas
2 teaspoons salt, or to taste
1/2 teaspoon ground black pepper, or to taste
1 egg whisked with 1 tablespoon water
Directions:
Dough
In the bowl of a food processor, combine the flour, salt and butter and pulse about 5 times to combine.  Add the shortening and continue to pulse until the dough resembles coarse, large cornmeal.  Sprinkle with 3 – 4 tablespoons ice water and continue to blend on the dough setting until the dough forms a ball.  (Add a little water at a time if the dough isn't coming together.)  Remove from the food processor and flatten slightly into a disk.  Wrap in cellophane and chill for 30 minutes.  (Dough can be prepared ahead of time and left to chill for up to 2 days.)
Place the dough on a lightly floured surface and roll out to 1/4″ thick.  Cut into 6 rounds just slightly larger than the dish circumference.  Lay a dough round over each filled ramekin.  Using the tines of a fork, flute the edges.  Cut a 1″ slit in the top of each pie.
Brush the tops with the egg wash.
Potpie
In a saucepan over medium heat, melt the butter.  Add the onion, carrots, and celery and cook, stirring occasionally,  until the onion is tender and translucent, about 8 – 10 minutes.
Add the flour and stir to evenly coat the vegetables with the flour.
Add the milk, a little at a time, stirring well to incorporate after each addition.  The mixture will begin to thicken as you add the milk.
Add the chicken broth and stir until combined and smooth.
Heat the mixture until bubbles start to form.  Reduce the heat to low and simmer for 10 minutes, stirring often.
Add the sherry, chicken, thyme, parsley, peas, salt and pepper.  Divide the filling among 6 10-ounce ramekins or baking dishes.
Preheat the oven to 400 degrees.  Place the potpies on a baking sheet.  Bake for 25 minutes, until the pastry is golden brown and the filling is bubbling.
Serve immediately.
Total time: 1:55 hr | Prep: 90 min | Cook: 25 min