A recipe from EntertainingCouple.com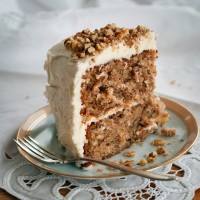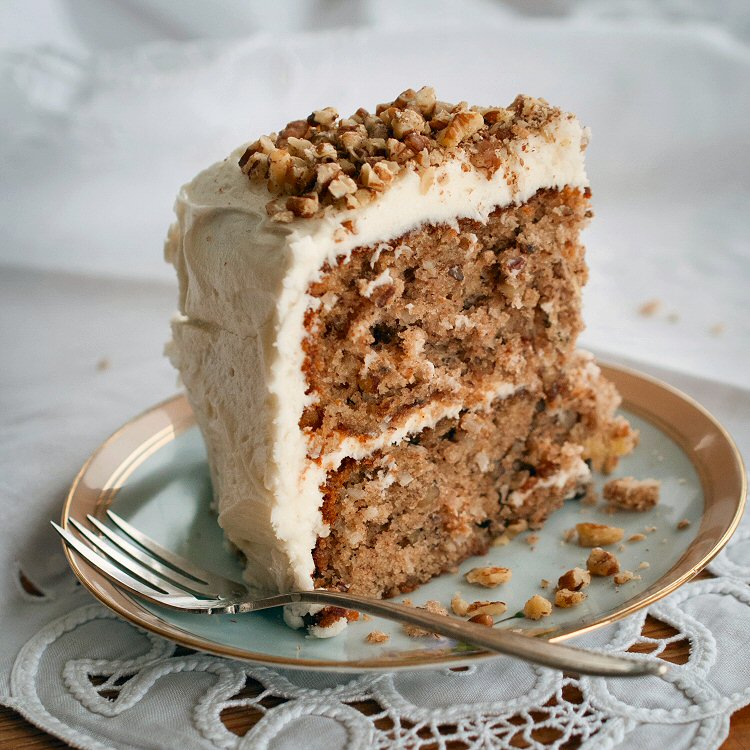 Hummingbird Cake
This recipe was originally published in Southern Living magazine, circa 1978. We think the name comes from the sweetness of the ingredients. Read our post for more info...

Recipe
Ingredients:
Cake:
3 cups flour
2 cups sugar
1 teaspoon salt
1 teaspoon baking soda
1 teaspoon cinnamon
3 eggs, slightly beaten
2 teaspoons vanilla
1 cup vegetable oil
1 8-ounce can crushed pineapple (with juice)
2 cups chopped pecans
2 cups crushed bananas (about 3 bananas)
1/2 cup coconut flakes
Frosting:
8 ounces cream cheese, at room temperature
8 tablespoons (1 stick) butter, at room temperature
1 teaspoon vanilla
4 tablespoons cream
5 cups powdered sugar
Directions:
Cake:
Place oven rack in the middle of the oven and preheat oven to 350 degrees.
Generously grease two 9″ cake pans.  Place parchment paper (cut to fit or use round parchment paper) in the bottom and apply a thin layer of butter or Crisco on top of the parchment.
In the bowl of a standing mixer, using the beater paddle, combine the flour, sugar, salt, baking soda and cinnamon.  Add the eggs and oil and mix just until dry ingredients are moistened.  Add the vanilla, crushed pineapple, 1 cup pecans, bananas and coconut and beat until blended.
Pour the batter into the prepared pans.  Tap lightly a few times on the counter to release any air bubbles.
Bake at 350 degrees for 35 – 40 minutes, or until a toothpick inserted in the middle comes out clean.
Cool the cake in the pans for about 10 minutes, then invert onto racks to cool completely.  (Remove the parchment paper.)
When completely cool, wrap each layer tightly in plastic wrap and place in the refrigerator for several hours or overnight.  This will make frosting the cake easier.
When you're ready to frost the cake, prepare the frosting.  Spread the frosting on the first layer and place the second cake layer on top of the first.  Frost the sides and top of the cake.  Sprinkle the remaining pecans on top of the cake.
Frosting:
In the bowl of a standing mixer using the paddle attachment, blend together the cream cheese and butter until completely combined.  Add the  vanilla and cream, and combine well.
Change to the whisk attachment, and add the powdered sugar, one cup at a time.  When completely blended, whip the frosting on high until light.
Hostess Note:  This recipe can also be made in a Bundt pan.  Pour batter into a greased and floured pan.  Bake at 350 degrees for 1 hour.  Cool for 10 minutes and then invert onto a rack to cool completely.  Halve the recipe for the frosting and add to the cake when cool.
Total time: 2 hr | Prep: 1.5 hr | Cook: 35-40 min