A recipe from EntertainingCouple.com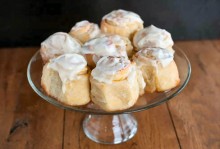 Recipe
Ingredients:
Rolls:
1 cup milk
2/3 cups butter, divided + extra for greasing the pan
1 cup sugar, divided
1/2 teaspoon salt
2 eggs
4 1/2 – 5 cups all-purpose flour
1 package active dry yeast
Zest from 2 oranges (about 3-4 tablespoons)
Frosting:
3 ounces cream cheese, room temperature
1/4 cup butter, softened
1 1/2 – 2 cups powdered sugar
Pinch of salt
1/2 tablespoon orange juice
1/2 teaspoon vanilla or orange extract
Directions:
Rolls:
In a saucepan, combine the milk, 1/3 cup butter, 1/2 cup sugar and the salt.  Warm over a low heat until the butter is melted and the milk begins to steam.  Remove from heat and cool to 110 degrees.
In the pan of a bread maker, layer the eggs, milk mixture, 4 1/2 cups flour and yeast, adding the yeast last on top of the flour.  Select the "dough" setting and press start.  If the dough isn't smooth and elastic when it's blended, add flour, 1 tablespoon at a time.
Allow the dough to rise in the bread maker.
Place the dough on a surface that has been lightly dusted with flour.  Using a rolling pin, roll the dough into a rectangle, approximately 13×19″.  Spread 1/3 cup butter (softened almost to a melted stage) evenly over the dough, leaving about an inch along the long edge furthest from you dry.  Spread the 1/2 cup sugar evenly over the butter.  Sprinkle the orange zest evenly over the sugar.  Starting with the long edge closest to you, carefully roll the dough into a log, keeping it fairly tight as you go.  When you reach the edge, pinch along the edge to seal.  Using a sharp knife, slice into 12 rolls.  Generously grease a 9×13″ baking dish with butter.  Place rolls in the prepared pan.  Cover with a damp cloth and allow to rise in a warm place until nearly doubled, usually about 45 – 60 minutes.
Preheat oven to 350.
Bake the rolls for 25 minutes or until golden brown.
Remove from the oven and allow to cool while you prepare the frosting.
Frosting:
In the bowl of mixer, combine the cream cheese and butter and beat until creamy and light.  Add the powdered sugar and salt and mix well.  Add the orange juice and extract and beat until smooth.  Spread frosting on warm rolls.
* Note:  Total time for this recipe includes 2:15 for the dough to rise twice.
Total time: 3:25* hr | Prep: 45 min | Cook: 25 min