A recipe from EntertainingCouple.com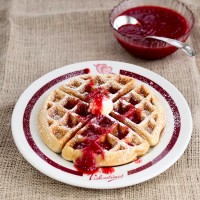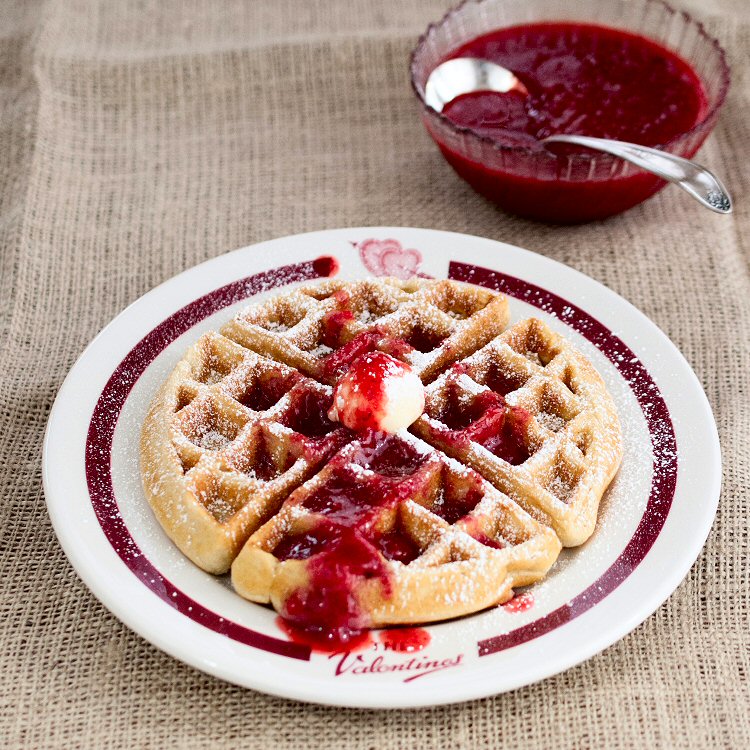 Recipe
Ingredients (makes 4-6 servings):
1/3 cup unsalted butter, melted and cooled to room temperature
1 3/4 cups all-purpose flour
3 tablespoons sugar
2 teaspoons baking powder
1 teaspoon baking soda
1 teaspoon salt
1 3/4 cups buttermilk
2 eggs
2 teaspoons vanilla extract
16 ounces sliced/sweetened strawberries (thawed), optional
Directions:
To keep this to two bowls:
In a medium glass bowl, melt the butter in the microwave.  Set aside and allow to cool to room temperature.
Preheat your waffle iron.
In a separate bowl, whisk together the flour, sugar, baking powder, baking soda and salt.  Set aside.
Add the buttermilk, eggs and vanilla to the butter and whisk to combine.  Add the wet ingredients to the dry ingredients and gently whisk to combine until all ingredients are incorporated.  Do not over-mix.
Once the waffle iron is preheated, spray with a non-stick cooking spray.  Add the batter (either pour or use a ladle) according to the manufacturer's instructions and cook 2 – 3 minutes or until golden brown. (We use the KitchenAid flip style waffle maker, and 3 1/2 minutes was the perfect time for these waffles.)
Serve immediately with your choice of topping.  See below for how to make an easy fruit topping.  If these aren't served immediately, place in a preheated 300 degree oven to keep warm and then add the topping when serving.
Easy Fruit Topping:
Thaw a container of frozen fruit (we used strawberry).  Puree the thawed fruit in a blender or food processor.  Serve.
* Cook time is for each batch.
Total time: 30 min | Prep: 15 min | Cook: 3:30* min