Breakfast for Dinner
I read something recently that said that the new trend is having breakfast for dinner.   Boy, I never really thought of my dad as a trend setter, unless you consider his early adoption of matching a striped shirt with plaid pants as trendsetting.  But I can tell you that Dad was making breakfast for dinner 50 years ago.  Growing up, I can count on one hand the number of times my mom was too sick to get out of bed.   And when Mom was unable to perform her Mom Duties, our little household got turned on its side because the responsibility for feeding the kids fell to my dad.  The thing he knew how to make was breakfast, so breakfast is what we had for dinner. I grew up thinking that having eggs, bacon and pancakes or waffles for dinner was a royal treat.
Okay, so the eggs or bacon weren't cooked to order.  And, there's a good chance that a box of Bisquick was the reason we got pancakes or waffles.  But let's not lose sight of the fact that this was a time when the kitchen was the woman's domain, and yet Dad was actually in the kitchen, cooking.
Breakfast for dinner is a tradition that we proudly carry on in this house, although it doesn't take one of us to be lying ill in bed to justify it.  Unlike Dad, who really only had one meal in his culinary bag of tricks, we make breakfast for dinner by choice.  Granted, it's usually after we look in the refrigerator and realize we only have eggs and milk.  But, still, it's a choice that we always seem almost giddy over.  Yea!  Breakfast for dinner!
The reality is, there just never seems to be enough time in the morning to have a nice, sit down breakfast. Even when we have nothing but time, unless it's the weekend, we just don't seem to bother with anything more than a smoothie or a bowl of cereal for breakfast.  Yet we look forward to a "big" meal at dinner.  So, here's the funny thing.  Even though a meal of eggs and bacon and something off the griddle seems like a pretty involved thing, it's actually pretty quick to pull together.  Maybe this concept is gaining in popularity ("new trend") because people miss having a big farm-style breakfast, so they've rescheduled it for a time of day that doesn't require setting the alarm an extra 45 minutes early.  Wouldn't that be just like us?  Reschedule something like breakfast to accommodate our schedules.  The result?  Breakfast for dinner!  So, whether it's a convenience (like when we don't have anything else in the fridge,) a means of survival (as in my dad's case), or a trend, breakfast is a nice alternative to the traditional dinner menu.  So, go ahead.  Make breakfast for dinner and give everyone a treat.  But, if this does turn out to be a trend, I'm going to give my dad full credit for it.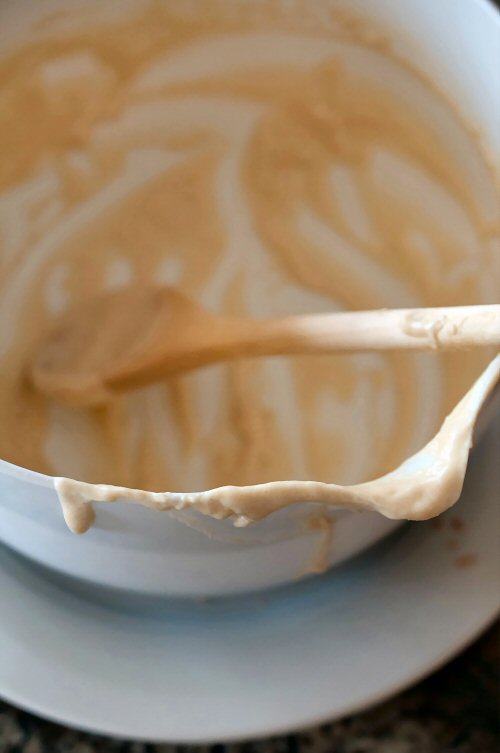 Here's our suggestion for a real breakfast treat.  Waffles.  We've long ago shifted away from waffles made from a mix.  Like homemade pancakes, waffles from scratch really don't take much more time than those made from a box.  And they are so much better.  This recipe is for a Belgian-style waffle, which means they are a little sweet and cake-like.  They are good served with fresh berries, syrup, or, as in this case, a pureed berry sauce.  The whipping cream is optional.  Regardless of what you top them with, they are oh-so-good.  For dinner or otherwise.
Happy Entertaining!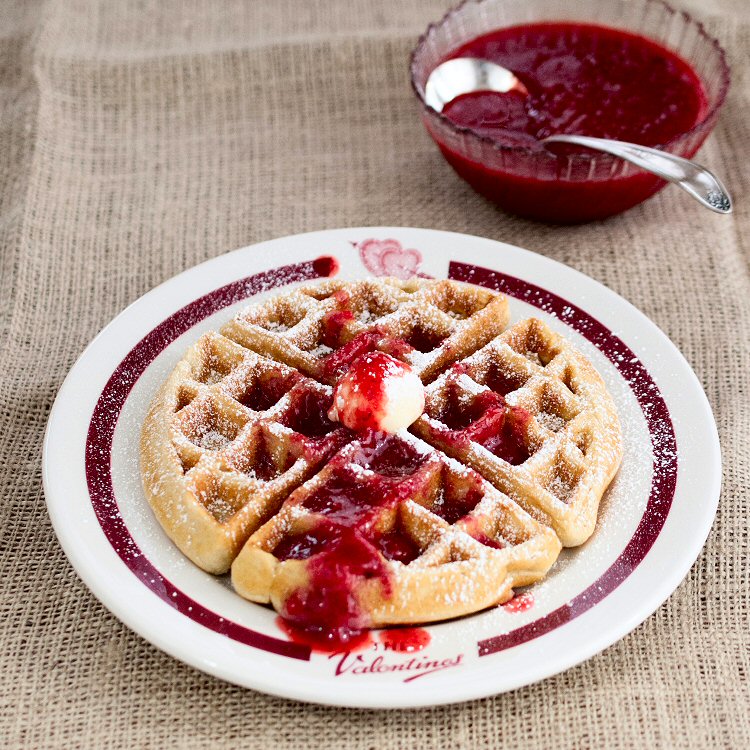 Click here to get recipe