A Craving for Orange Rolls
Sometimes it just starts with a hankering.  And many times, as in this case, I really don't even know where the desire came from.  I just woke up one day and wanted orange rolls.  I was actually pretty sure that I had a recipe and that I had made them before.  But I couldn't find anything in my notebook, so I had to get creative.
Since my mom's cinnamon roll recipe makes such a good dough, I decided to start with that.  Then, I just adjusted the filling (substituted white sugar for brown and orange zest for the cinnamon).  And I tweaked the frosting, as well, to give it a taste of orange.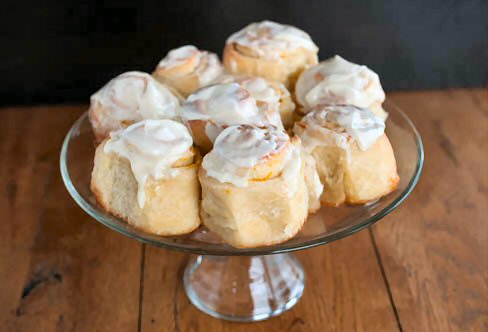 And, I don't mean to brag, but holy cow these rolls are good!  The term that comes to mind is scrump-dilly-icious!  Thankfully I only made half a recipe because we managed to polish off the entire batch of rolls in just a couple of days.  And there were just two of us doing the polishing.
I have no intention of replacing cinnamon rolls in my diet.  But these zesty rolls provide a nice alternative, in case any of you are finding that a cinnamon-only diet is rather dull.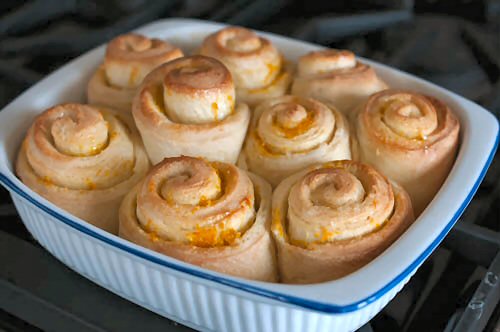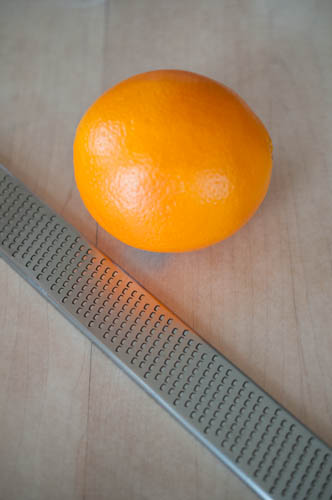 Hostess Hint:  There are many suggested ways to zest an orange. My lack of patience makes the idea of first peeling an orange and then dicing the peel into a zest, well, beyond my tolerance.  When something starts to look like a pain in the patootie, I usually bail.  So, my preferred method is to use a microplane grater.  Because of the oil, zest can be kind of sticky. I grate it onto a piece of wax paper and then sprinkle it on the dough from that. Or, if you find sprinkling the zest a bit challenging, then you can mix the butter, sugar and zest together in a bowl first and then spread the mixture over the dough.