And the children shall lead us
Let's be honest here.  If it weren't for our daughter's refusal to eat pancakes made from Bisquick when she was a little girl, I probably wouldn't have come up with a recipe to make them from scratch.  The ones from the box always seemed fine to me.  Leave it to the discerning tastes of a 5-year old to convince me otherwise.
In our house, the luxury of a full breakfast has always been something reserved for weekends.  Especially when we were working full-time, we just never took the time during the week to deal with the preparation, and mess, of making breakfast.  We still don't make it everyday, but now we've found that when guests stay over, many times we make breakfast (or "brunch," if we're slow to get moving) in the morning.  Thanks to this recipe, pancakes are now one of the mainstays of our breakfast routine.  And when I realized that making them from scratch is not much more work than using the mix, it made me wonder why I didn't do it all along.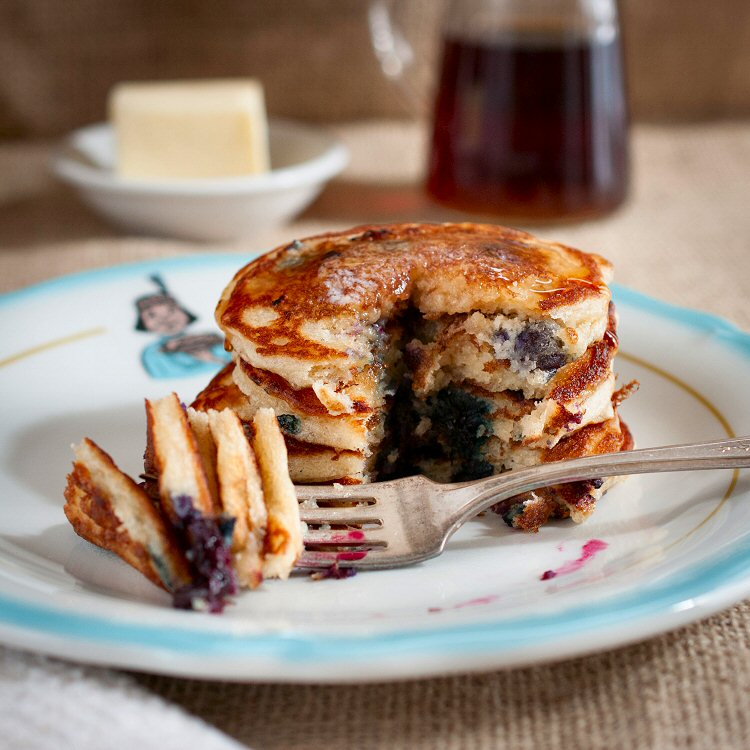 Although Mom used to use Bisquick, which I no longer do, it is her technique for cooking pancakes that I still use.  Using the tines of a fork, she used to spread a glob of Crisco over the surface of the pan (which was usually her cast iron skillet) each time she added batter to the pan.  I've tried other things, like butter and oil, but nothing else provides the crispy edges quite like an ample dollop of Crisco does.
Recently, our friends were here with their two young sons.  The boys desperately wanted to try and make a pancake bigger than the one they made last year while visiting.  (And, at one point they thought they should try and beat the world's record for largest pancake.  Thankfully, they abandoned that idea when a Google search revealed that the record-holding pancake was more than 4′ in diameter.)  Instead, they made one that was about 12″ in diameter.  It took 2 adults and several spatulas to flip that sucker, and the wall behind the stove wore some evidence of the attempt, but all in all it was successful.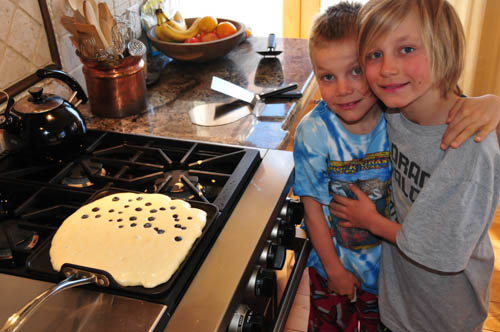 Besides using Crisco, the other thing we've discovered when making these is that it's better to add the blueberries (if you're using them) to the pancake after you've poured a pancake's worth of batter onto the griddle.  If you mix them into the batter, it tends to make a purple batter.  Just pour some batter and then sprinkle a few berries on top, before flipping.
Spreading the Crisco: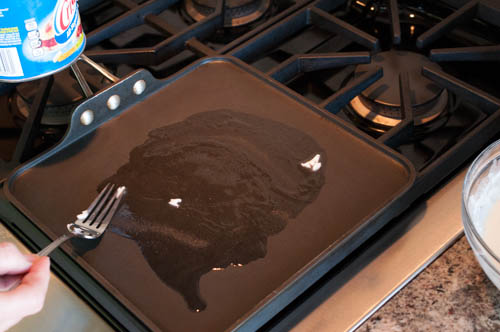 Spooning the batter: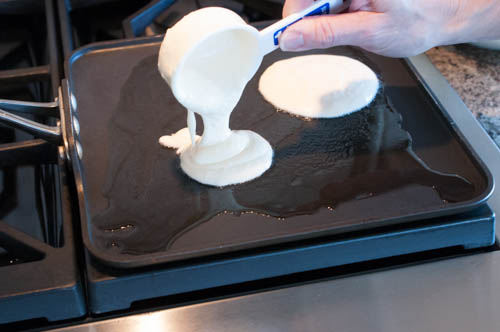 Adding blueberries:
Ready to flip!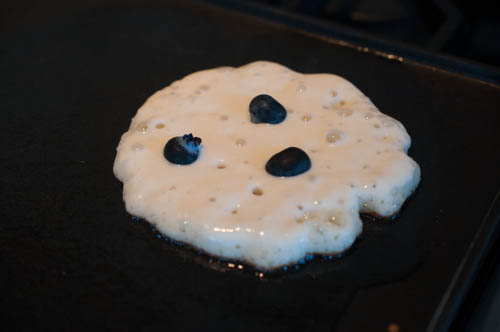 Click here to get recipe