A recipe from EntertainingCouple.com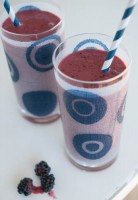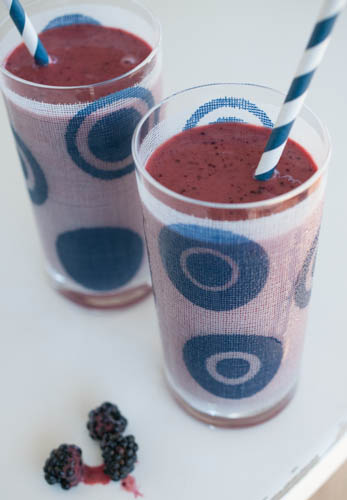 Mango Blackberry Smoothies
Smoothies have become a morning staple in The Entertaining Couple's home. This recipe includes blackberries for a hold-onto-summer flavor. Read our post for more info...

Recipe
Ingredients (makes 2 large or 4 small servings):
1 ripe banana, peeled
1 1/2 cups mango juice
1/2 cup pomegranate juice
1 cup low-fat Greek vanilla yogurt
1 cup blackberries
1 cup blueberries
1 cup strawberries
Directions:
Place all ingredients in a blender and process until smooth.  Add a little additional juice if the mixture is too thick.  Pour into glasses and serve.
Hostess' tips:  I have found that if all the fruit is frozen, I don't need to add any ice; it will be plenty thick from the fruit.  And my favorite Greek yogurt is Oikos.  It isn't quite as bitter as some yogurts can be.
Total time: 10 min | Prep: 10 min | Cook: N/A