A recipe from EntertainingCouple.com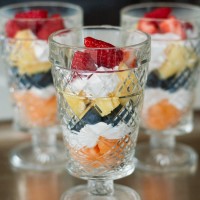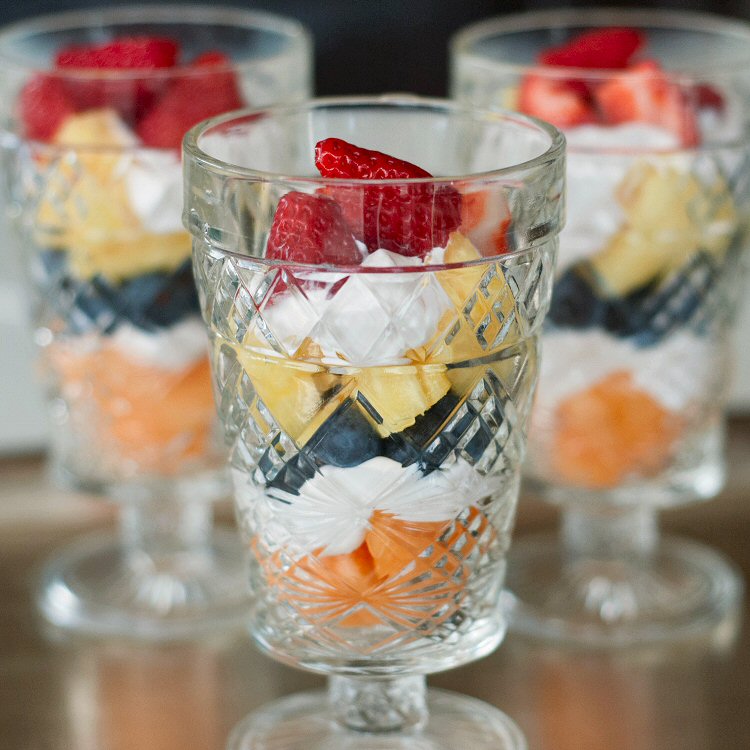 Layered Fruit Salad
This recipe for layered fruit salad makes a perfect "light" dessert. It's also a perfect dish for brunch.

Recipe
Ingredients (makes 5 cups):
8 ounces cream cheese (set out at room temperature for about 2 hours)
1 cup vanilla yogurt
1 cup berries + juice (from frozen, thawed)
1 teaspoon almond extract
16 ounces Cool-Whip whipped topping (thawed)
Fresh fruit (like cantaloupe, berries, pineapple and bananas), sliced to bite size
Directions:
Place the cream cheese out at room temperature before you add it to the other ingredients.  Allowing the cream cheese to warm will let it combine better with the ingredients and will give the topping a fluffy texture.
In the bowl of a standing mixer fitted with the paddle attachment, beat the cream cheese until light, fluffy and lump-free.  Scrape the sides of the bowl with a spatula as you beat the cream cheese.
Add the yogurt and beat until well combined.
Add the thawed berries and almond extract and beat until the berries are pretty well smashed and incorporated.  (Alternatively, if you don't want any chunks of fruit, you can puree the berries + juice and then add it to the cream cheese mixture.)
Fold in the Cool Whip.
Layer the topping with sliced fruit.  The layered fruit salad cups can be served immediately, or refrigerated for several hours until ready to serve.
Note:  The topping can also be used as a dip.  It can be made the day before and stored in an air-tight container until ready to use.
Hints:  You can soften the cream cheese to make it easier to blend with the other ingredients by placing the it in a microwave-safe bowl.  Microwave the cream cheese for about 30 seconds on high or until softened.  And, to save time, you can buy "ready to serve" fruit at most grocery stores.
Total time: 30 min | Prep: 30 min | Cook: N/A