The End of Summer
All good things must come to an end.  Or so they say.  And lots of people are saying it around here about the end of summer.  Yes, it was a wonderful summer.  And, yes, we are seeing definite signs of fall.  But I'm not quite as melancholy about the end of the summer as others are.  Except when I think about the end of summer food. Now that does make me a little sad.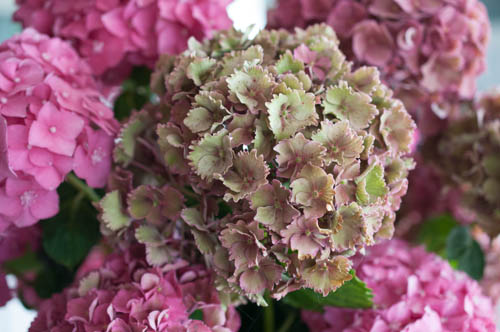 Those of you who have been reading this blog since its beginning (almost a year ago) will know I have a favorite, and apparently secret (since no one else ever seems to go there) blackberry patch where we can pick all the blackberries we can stand to eat, freeze, and cobbler-ize.  But the trip to the thicket today proved that the blackberry season has come to an end for this year.  My use of "slim pickin's" this afternoon was probably the first time in my life I used the phrase in the proper context.
If you've ever had an overnight stay at our house, there's a pretty good chance that we served you a fruit smoothie for breakfast.  Not necessarily because you requested one but rather because I make one almost every morning for us and I just assume everyone else wants one too.  For me, it seems like a whole-lotta-healthy in a glass.  And who wouldn't want that first thing in the morning? (No need to actually answer because, as I said, I just assume everyone wants one.)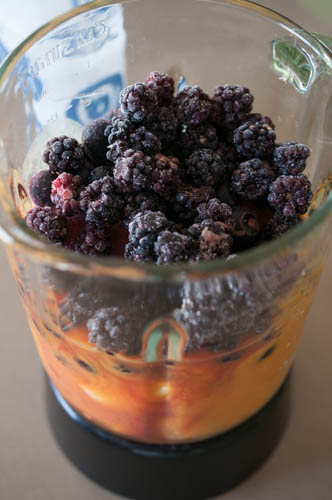 These last few weeks, since the blackberries have been ripe, my new daily gotta-have has been a mango/blackberry smoothie.  With each glass, I can just feel those wild antioxidants racing through my body wiping out free radicals as they go.  And because of the surging healthy goodness, I can pretty effectively ignore anything else that might be in there, say like a teensie dose of sugar.  We'll just call that part of the smoothie "energy" and leave it at that.
If you're lucky enough to have some blackberries in your freezer and you want to postpone the end-of-summer blues a little while longer, treat your guests, and yourself, to this scrumptious (and healthy!) treat.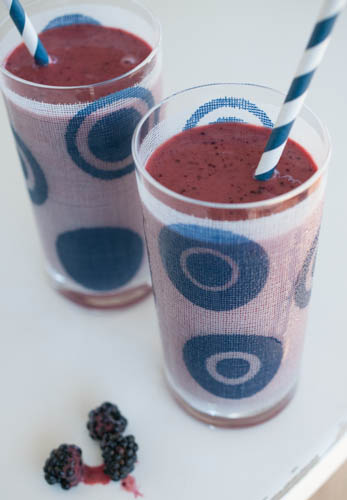 Happy entertaining!