A recipe from EntertainingCouple.com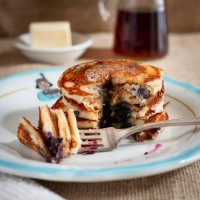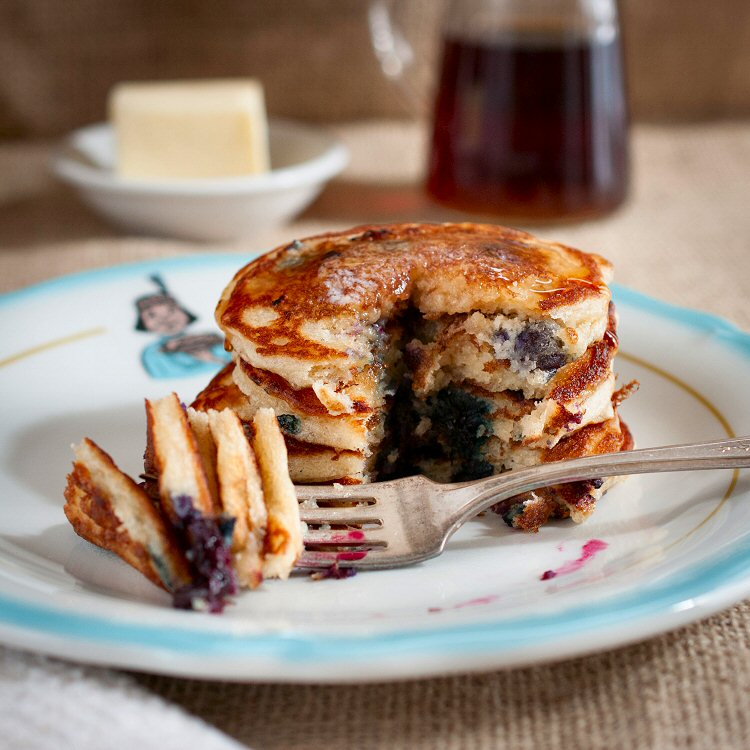 Buttermilk Pancakes
These have become one of our go-to breakfast staples when an evening of entertaining spills over into the next morning. Read our post for more info...

Recipe
Ingredients (makes about 30 pancakes):
1 1/2 cups all-purpose flour
2 1/2 teaspoons baking powder
1 teaspoon baking soda
1/2 teaspoon salt
3 tablespoons sugar
2 cups buttermilk
1 egg
3 tablespoons butter, melted
Vegetable shortening for cooking
1 cup blueberries (optional)
Syrup, warmed
Directions:
Heat a large nonstick griddle or skillet over medium heat.
In a large bowl, whisk together flour, baking powder, baking soda, salt and sugar.  In a small bowl, whisk together buttermilk, egg and melted butter until blended.  Using a wooden spoon, gently add the buttermilk mixture to the dry mixture and stir batter just until blended.  (Batter may be lumpy.)
Using a fork, spread the shortening over the hot griddle.  Using a ladle or measuring cup, pour spoonfuls of the batter onto the griddle (about 1/3 C of batter per pancake).  If using blueberries, sprinkle 3-5 berries to each pancake at this point.  Cook until bubbles form across the top of the pancake and a few begin to pop, 1 – 2 minutes.  Turn the buttermilk pancakes with a thin spatula.  Cook 1 – 2 minutes more until browned.  Repeat the process, adding additional shortening to the pan for each batch.  Serve immediately with butter and syrup.
Total time: 20 min | Prep: 10 min | Cook: 10 min