A recipe from EntertainingCouple.com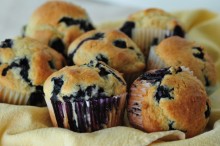 Lemon Blueberry Muffins
This recipe uses the classic process of creating a well in the middle of the dry ingredients where you add the wet ingredients... Read our post for more info...

Recipe
Ingredients
2 cups all-purpose flour
2/3 cup sugar
1 teaspoon baking powder
1 teaspoon baking soda
1/2 teaspoon salt
1 cup sour cream
1/4 cup unsalted butter, melted and cooled
1 large egg
14/ cup milk
1 teaspoon lemon juice
1 teaspoon lemon zest
1 teaspoon vanilla
2 cups fresh, or thawed, drained frozen blueberries
Directions
Preheat oven to 400 degrees.  Position the rack in the middle of the oven.  LIne muffin tins with paper liners.
In a large bowl, whisk together that flour, sugar, baking powder, baking soda and salt.
In another bowl, stir together the sour cream, butter, egg, milk, lemon juice, lemon zest and vanilla until well blended.  Make a well in the center of the dry ingredients and add the wet ingredients.  Stir just until combined.  Gently stir in the blueberries.
Spoon batter into the prepared muffin cups.  (I use one of those ice cream scoops with a release trigger.  Works great for batter like this and ensures size consistency.)
Bake 20 – 25 minutes, or until a cake tester inserted in the middle of a muffin comes out clean.
Remove muffin tin to a wire rack.  Let the muffins cool for 5 minutes before removing them from the tin.  Serve warm with butter.
Makes 15 muffins.
Total time: 45 min | Prep: 20 min | Cook: 25 min