The Story of Our Quickie. Oops, Make That Quiche…
This is one of those times when I am super excited to share something with you.  In this case, it's because this is one of those recipes that every host/hostess should have in their bag of tricks.  Why?  Well, the list is long.  Gather 'round and let me tell you all about it.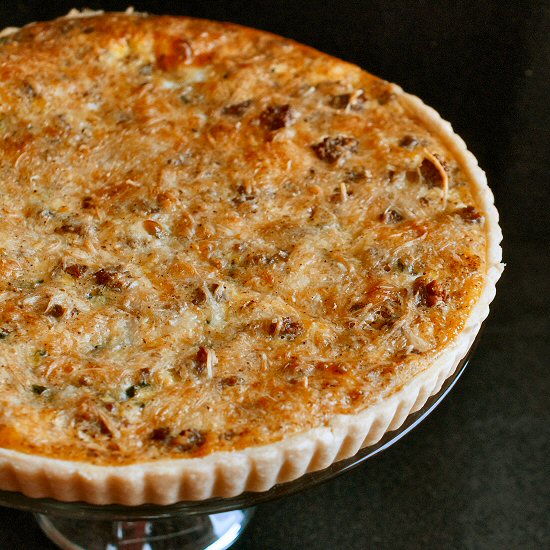 First, it's good.  Or, better stated, it's absolutely delicious.  But since I really only post recipes that I think are good, this probably isn't the most newsworthy aspect of it.
What I really like about this quiche is you can take the basic recipe and make it work for you, as well as for those lucky folks around your table who get to share it with you.  Want to make your own crust?  Here's the recipe.  Can't be bothered with a homemade crust?  Then use one out of a box.  It will still be good.  Prefer more egg-to-crust ratio?  Just choose the deep dish quiche versus the one made in a tart pan.  Same recipe, just double the ingredients. Like onions with your eggs and cheese?  No problem.  Just add some onions when you brown the meat.  And, here's the really great news.  You can use sausage or bacon, or, if you need a vegetarian option, you can use veggie sausage.
Usually when I hear things like "veggie sausage" I am reminded of when I was a kid being forced to eat things I didn't like, and then trying to discreetly hide the skeevy food item under my mashed potatoes.  But this is different.  My sister-in-law started making this recipe with MorningStar Farms sausage, and I have to admit, it's great.  The only adjustment I make when I use it (which is most often, actually) is that I add some oil to the pan when I brown the sausage to keep it from sticking.  I've had some guests (with very discerning tastes) not even realize they were eating meatless sausage.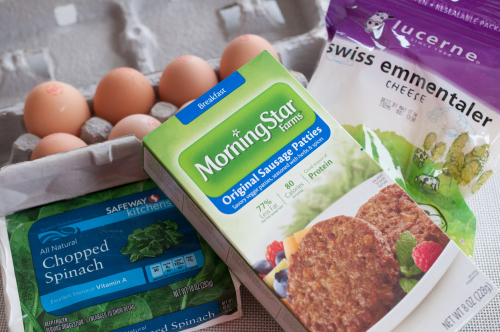 Lastly, this quiche makes for a stress-free meal.  You can buy the cheese in a ready-to-use bag so you don't even need to bother with a cheese grater.  Oops!  Forgot to thaw the spinach?  No problem.  Just microwave it and you're back in business.  You can put it all together and let it bake while you chat with your guests.  It easily feeds 8 (if you're using a tart pan; here's the pan I use
) or maybe even 10 if you're using a pie dish.  Either way, it's an easy way to feed a group, and I always like having those types of dishes available to me.  Seriously, what's not to love?
I've been making this recipe, or some variation of it, for years.  Twenty-five years ago it seemed that I was hosting a bridal or baby shower about once a month, and this quiche, along with a fruit salad and some muffins, became a became the standard menu at each of them.  Since then, this quiche has made appearances at all different types of brunches and lunches.  Regardless if the occasion is fancy or casual, this dish fits right in.  Oh, I also make it just for the two of us.  More than occasionally.  If you are still thinking that real men don't eat quiche, I am here to tell you that they do.  With gusto.
Happy Entertaining!