A recipe from EntertainingCouple.com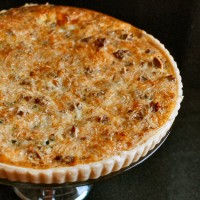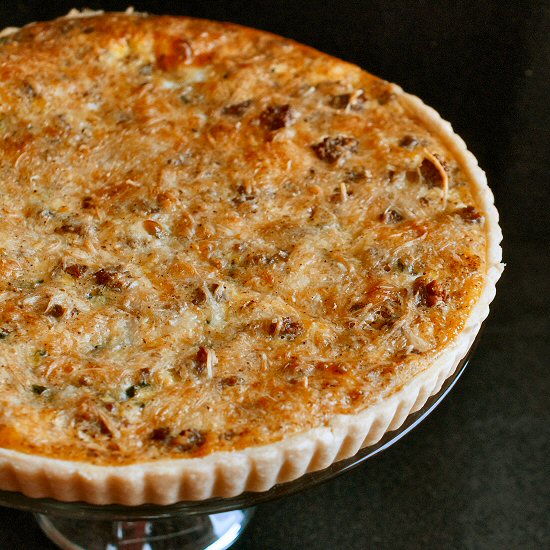 Quiche – Classic Deep Dish
This quiche is thicker and has a higher egg-to-crust ratio than our tart-style quiche, but other than that it's just as easy to make and just as tasty. Read our post for more info...

Recipe
Ingredients:
1 (9-inch) refrigerated or homemade pie crust, fitted to a 9-inch glass pie plate
2 tablespoons butter at room temperature
1 pound bacon,  ground pork sausage or veggie sausage
1 10- ounce package frozen spinach, thawed and well drained
1 1/2 cups Swiss or Swiss Emantaler cheese, shredded
10 eggs
1 cup cream or half and half
1/2 teaspoon pepper
3/4 teaspoon salt
1 teaspoon nutmeg
Directions:
Preheat the oven to 425 degrees.
Cook the meat; drain and crumble.  If using the veggie sausage, thaw the sausage and cook in about 1 tablespoon oil.
Meanwhile, prepare the pie crust and place in a deep pie dish.  Spread the butter over the pie crust.
Spread the meat evenly over the butter, and then spread the spinach over the meat.  Spread the cheese evenly over the entire pie.
In a large bowl, whisk together the eggs, cream, and seasonings.  Slowly pour the egg mixture into the pie dish covering the meat, spinach and cheese.
Bake for 15 minutes at 425 degrees.  Reduce the heat to 325 degrees and continue to bake for 30 – 40 minutes or until golden brown and just set.  You don't want to overcook it.  Remove from the oven and let stand for 10 minutes before serving.
Hostess' tip:  There are several ways to make this a quick and easy recipe.  First, if you don't want to bother with a homemade pie crust, use a prepared one from the store.  I do this all the time and the quiche still turns out great.  If you forget to thaw the spinach ahead of time, you can defrost it in the microwave.  Just cut a slit in the box, place in a microwavable bowl, and cook on "defrost" for several minutes.  Then, squeeze the box until all the liquid comes out.  At this point you can just pull the paper away and you'll have thawed spinach that's ready to use.  You'll want to make sure the spinach is well drained.  I find that I can squeeze handfuls in-between paper towels to get any excess liquid out.  And, you can easily overlap your steps.  Defrost the spinach while you cook the meat.  And, buy cheese that's already grated.  These are shortcuts that will allow you to prepare it quickly without impacting the outcome.
Total time: 1:45 hr | Prep: 45 min | Cook: 1 hr