A recipe from EntertainingCouple.com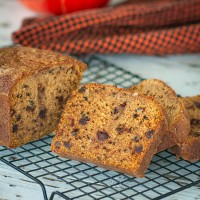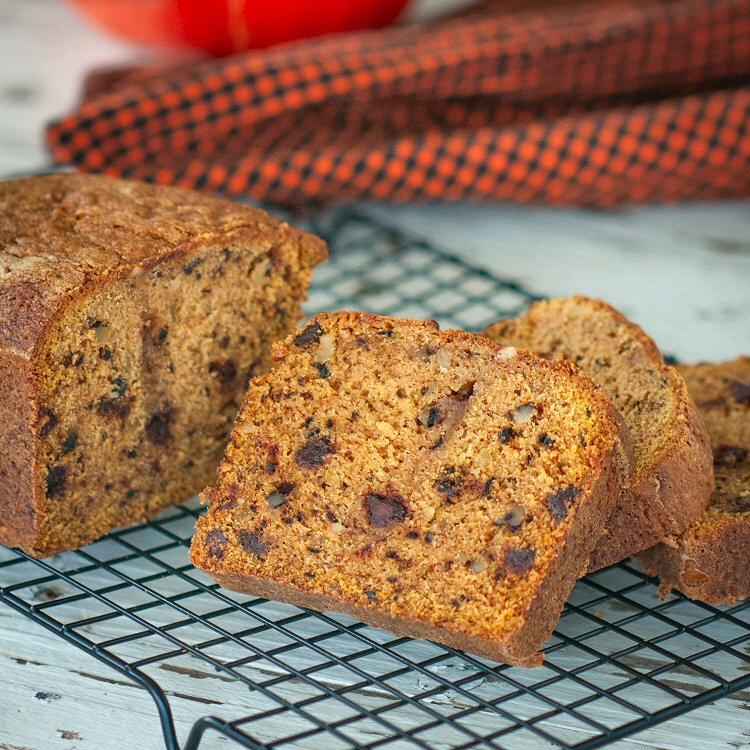 Pumpkin Bread
One of my annual fall traditions is to make pumpkin bread. Betty's Pumpkin Bread, actually. My good friend, Wendy, gave me this recipe years ago. Read our post for more info...

Recipe
Ingredients (makes two loaves):
3 1/2 cups all-purpose flour
1 1/2 teaspoons ground cinnamon
1 1/2 teaspoons ground nutmeg
2 teaspoons baking soda
1 teaspoon salt
1 cup shortening
3 cups white sugar
2/3 cup warm water
4 eggs
1 15-ounce call (2 cups) canned pumpkin puree
2 cups chopped coarsely chopped walnuts
1 cup semi-sweet chocolate chips
Directions:
Place the oven rack in the middle of the oven and preheat oven to 350 degrees.  Grease and flour 2 9″ loaf pans.
Sift together the dry ingredients and set aside.
In the bowl of a standing mixer fitted with the paddle attachment, cream shortening and sugar until it resembles coarse sand.  Add the water and mix on low and then increase the speed to medium and beat until smooth.  Add the eggs, one at a time, mixing well after each.  Fold in the pumpkin and mix until well combined.
Add the half the dry ingredients and mix until combined.  Add the remaining flour and mix just until well integrated.
Stir in the nuts and chocolate chips.  Divide the batter evenly into the two prepared pans.  Bake at 350 for 65 – 70 minutes, or until a tester inserted in the middle comes out clean.
Remove from the oven and cool until the pan can be handled (about 10 minutes), then transfer the loaves to a baking rack to cool completely.
Total time: 110 min | Prep: 20 min | Cook: 90 min