Cinco de Mayo Party
One doesn't need to be fluent in Spanish to know what Cinco de Mayo means.  Although, truthfully, I wonder how many people actually know what we're celebrating on the 5th of May.  (Here's your quick history lesson for the day.  Cinco de Mayo commemorates the Mexican army's 1862 victory over France at the Battle of Puebla during the Franco-Mexican War.)
What I find interesting, though, is that Cinco de Mayo is a relatively minor holiday in Mexico.  Americans, on the other hand, have embraced this holiday and, thanks to their good friend Jose Cuervo, occasionally wake up on Seis de Mayo with a bit of a hangover.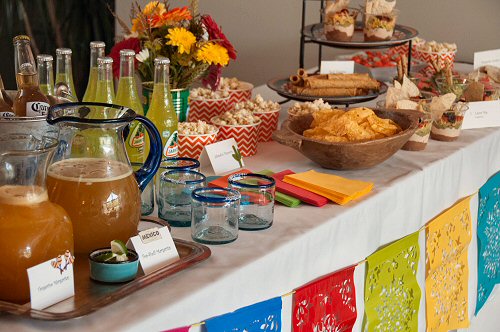 It's safe to say that Jon and I are big fans of all things Mexican, including Cinco de Mayo.  (As a nod to our affection for it all, we named our cat Maggie Rita.  We thought Margarita was just a little too obvious and flagrant of a banner for a little animal to bear.)  But the food.  The decorations.  The tequila.  What's not to like?  And, because so many of our friends are always game for a margarita and a fiesta, this is just one of those holidays that gives us a good reason to have a party.
Here's what we served:
Cinco de Mayo Party Menu
Homemade Guacamole and Chips
Jalapeño Popcorn
Beef Taquitos
Some of our party notables for any Cinco de Mayo host or hostess:
Everything was set up ahead of time on the buffet, which allowed us to relax and enjoy the party.
The margaritas were mixed ahead of time and served in pitchers, so all of the food and beverages were self-serve.
I didn't want to bother with plates or forks, so we prepared the guacamole and 7-layer dip in self-serve cups.  Plenty of chips were provided for scooping the dips out of the cups.  (And no need to be concerned about that nasty "double-dipping" issue!)
The beef taquitos turned out to be great for dredging the last bites of bean dip from the bottoms of the 7-layer dip cups.
Mexican sodas were provided as a non-alcholic option.
Beer was iced in a bucket and provided for anyone who didn't want to drink margaritas.
While both kinds of cookies we served were sugar cookies, the margarita cookie has lime zest in it, is rolled in a sugar and salt mixture, and then frosted with a tequila glaze (these recipes from Smitten Kitchen and McCormick were my inspiration).
An empty salsa can made for a perfect vase for the flowers.
We used our tried and true guacamole and margarita recipes.  But I don't think I had made 7 – Layer Dip since the early post-college years.  I consulted Google and liked The Pioneer Woman's recipe for the bean layer.  Ironically, many of the recipes I found actually had 8 or 9 layers, so I just decided what I wanted for the layers and went from there.  (Click here for the recipe and how-to.)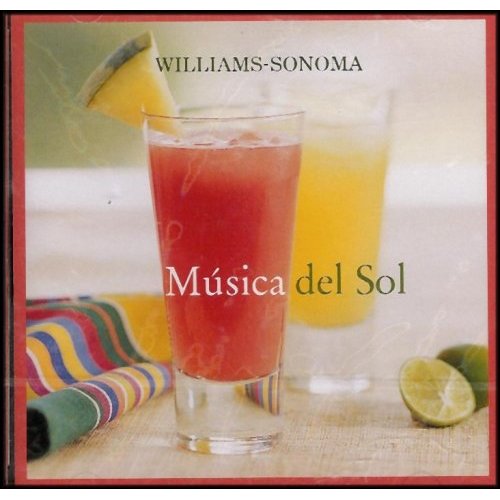 For music, we kicked off the party with our Musica del Sol
 CD that we picked up at Williams-Sonoma many years ago.  It's a high-energy compilation of a dozen latino-inspired tunes that never fails to kick things off and set the mood for a margarita-themed happy hour. Then we turned music duty over to Pandora's Tropical 2015 Radio, a station Jon found while browsing their latino genres.  Viva la musica!
Need some more ideas for your own Cinco de Mayo party?  Check out our board on Pinterest.
Happy (Cinco de Mayo) Entertaining!