A recipe from EntertainingCouple.com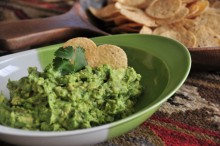 Guacamole
It seems that everyone has a favorite recipe for guacamole. Our daughter-in-law suggested once that we have a Guac Off... Read our post for more info...

Recipe
Ingredients:
2 ripe avocados
2 tablespoons cilantro, chopped
1/4 teaspoon salt, or to taste
2 tablespoons onion, finely chopped
1/2 tablespoon jalapeno pepper, finely chopped (optional, and adjust amount for heat and taste)
1/2 of a lime, juiced (about 1 tablespoon)
Directions:
Peel and core the avocados.  There is an easy way to do this.  (I've watched people peel avocados with a paring knife, similar to how they would peel an apple, and believe me, this method is a simpler approach.)  Holding half the avocado with one hand and using a large knife, cut the avocado in half lengthwise, running the knife around the pit.  Twist to separate the halves.  To remove the pit, either use a spoon or, if you're comfortable using a sharp knife close to your fingers, hold the avocado  (perhaps cradled in a kitchen towel) and gently tap the pit with the knife until the knife lodges in the pit.  It may take a few gentle whacks to get the knife to stick.  Then, twist the knife until the pit releases.  Remove the pit and discard.  At this point use either a spoon or your thumb  to separate the meat from the peel. Simply run the spoon, or your thumb, around the inside of the peel.  And, voila!  You have peeled and pitted the avocado.
Using a butter knife and fork, slice/mash the avocados.  Don't over-mash them.  This recipe uses a chunky avocado base.  Add the cilantro, salt, onion and jalapeno pepper (if using), and mix well.  Add enough lime juice to get the guacamole to a good, scoop-able consistency.  But it shouldn't be too mushy.
Serve immediately with tortilla chips.
Hostess' tip:  If you are buying avocados to use in guacamole and you can't buy ripe ones, you can buy them when they are still firm and put them in a brown paper bag to ripen.  You'll just need to plan ahead because they'll need to ripen for a couple of days in the bag before they'll be ready to be made into guacamole.
Total time: 15 min | Prep: 15 min | Cook: N/A