A recipe from EntertainingCouple.com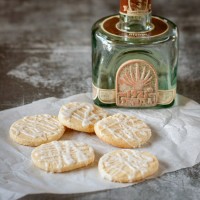 Recipe
Ingredients (makes about 30 cookies):
Cookies:
1 cup (2 sticks) unsalted butter, at room temperature
1 cup sugar
1 large egg yolk, at room temperature
1/4 teaspoon salt
1 tablespoon lime zest (about 2 limes)
1 teaspoon orange extract
2 cups all-purpose flour
1/4 cup coarse sugar
1/4 teaspoon kosher salt
Tequila Glaze:
1 cup powdered sugar
2 tablespoons tequila
1/4 teaspoon water
Directions:
In the bowl of a standing mixer fitted with the paddle attachment, beat the butter at medium speed until smooth.  Add the sugar and beat on medium until the mixture is light and creamy.  Add the egg yolk and beat until well combined.  Add the salt, lime zest, and orange extract and beat well.  Add the flour and beat just until combined.
Turn the dough out onto a lightly-floured surface.  Form into a log (about 9" by 1 1/2" in diameter).  The diameter of the log will determine the size of your cookies.  Wrap in plastic wrap and refrigerate for about an hour or until firm.  (Overnight is okay too.)
Place the oven rack in the middle of the oven and preheat to 350 degrees.  Line a baking sheet with parchment paper.
Mix the coarse sugar and kosher salt and spread over the center of a piece of wax paper.  Remove the plastic wrap from the chilled cookie dough and roll the dough in the sugar mixture to coat the outside evenly.  If necessary, you can kind of wrap the wax paper around the log to get the dough evenly coated.  Then, using a sharp knife, cut the dough into 1/4" thick slices.  Try and slice them into uniform sizes.  Place on the prepared baking sheets about 1/2" apart.
Bake the cookies for 12 – 14 minutes or until they are set and the bottom edges start to brown slightly.  Do not over bake them.  Cool on the baking sheet for a minute and then transfer to a rack to cool completely.
Prepare the glaze by whisking together the powdered sugar and tequila.  I like to use a pyrex measuring cup with a pour spout.  Drizzle the glaze over the cooled cookies.  Let stand until the glaze is set.
*Note:  Total time for this recipe includes 1 hour for chilling the dough and 30 minutes for the cookies to cool before frosting.
Total time: 2.5* | Prep: 45 min | Cook: 14 min