A recipe from EntertainingCouple.com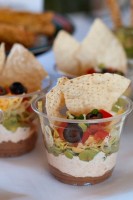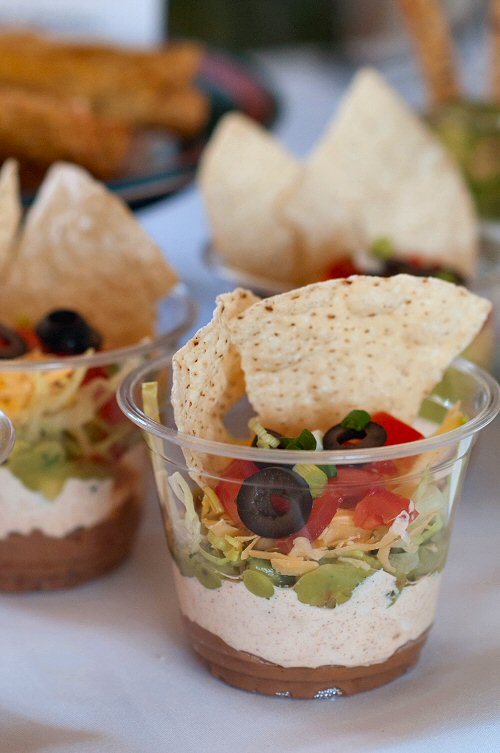 7 Layer Dip
Who doesn't love 7 layer dip? Kick off your next margarita party with this classic appetizer. We like to serve ours in individual cups. Read our post for more info...

Recipe
Ingredients:
1 can refried beans
Several dashes of hot sauce (like Cholula or Tabasco)
1 can diced green chilies (with the juice)
Dash of ground cumin
1 cup sour cream
1 package taco seasoning (I like McCormick's low sodium)
1 cup guacamole
1 cup sharp cheddar cheese, grated
1 cup lettuce, thinly sliced
1 cup diced tomatoes
1 small can black olives, sliced
Directions:
In a small pan, place the refried beans, hot sauce, diced green chilies and cumin.  Heat over medium heat until warm and blended, stirring occasionally as it heats.
Whisk the taco seasoning into the sour cream.
Spread the beans on the bottom the serving dish.
Spread the sour cream mixture over the beans.
Spread the guacamole over the sour cream.
Then layer the cheese, lettuce and diced tomatoes.
Add the olives over the top of the tomatoes.
Serve 7 layer dip with tortilla chips.
Our thanks go to ThePioneerWoman.com whose recipe for Mexican Layer Dip was the inspiration for the bean layer in our recipe.
Total time: 45 min | Prep: 35 min | Cook: 10 min