A recipe from EntertainingCouple.com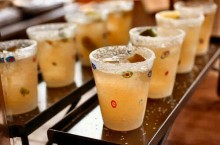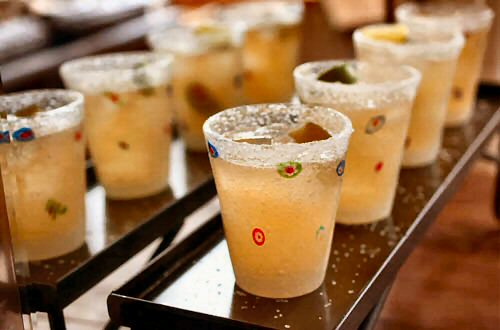 Our Top Shelf Margarita
An easy, "bottled mix" cocktail inspired by the Bartender's hand-crafted Shades of Taos margarita. Read our post for more info...

Recipe
Ingredients (serves 2):
2 ounces Freshies brand
margarita mix
3 ounces tequila
1 1/2 ounce Grand Marnier
1/2 orange
1 lime
Ice
Margarita salt (optional)
Directions:
Cut lime into wedges.
* Optionally, use a lime wedge to moisten the rims of your margarita glasses, then dip the rims in margarita salt.
Fill glasses with ice.
Fill cocktail shaker with ice.
Squeeze the orange half into the shaker.
Add the tequila and Grand Marnier.
Top with Freshies margarita mix.
Shake briskly for 10-15 seconds.
Pour into glasses and top each glass with a squeeze of lime.
Garnish with lime wedges and serve.
* Rather than try to remember which of our guests don't like salt with their margarita, the Bartender often salts just half the rim of every glass.  This simplifies serving and provides every guest with the option to partake of salt, or not, as they please.
Bartender's hint:  While any decent tequila will result in a great margarita in this recipe, we find that mid-priced tequilas like Jose Cuervo Gold or Sauza Gold work just fine if you don't want to break out your good stuff.  And, while we generally stay away from being brand-specific, I am a HUGE proponent of Freshies
margarita mix and always make sure to have some on hand — I encourage you to give it a try!
Total time: 5 min | Prep: 5 min | Cook: N/A